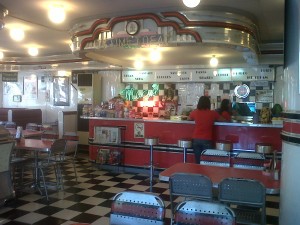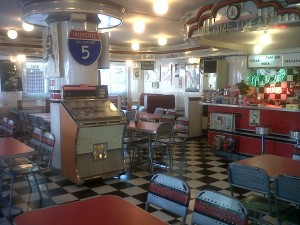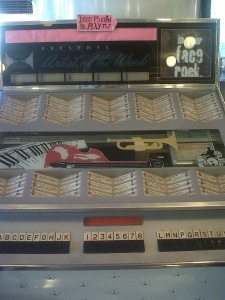 This is the 3rd installation of my Ilocos trip 2 months ago (see part 1 here, and part 2 here).
What I admire so much about Laoag or Ilocos, in general, is their laid-back and simple lifestyle. That's why spotting Macy's Diner, a 50s inspired "American Diner" , is both odd and fascinating. It feels like you are transported into another era when you walk into Macy's Diner. The place is adorned with Elvis Presley memorabilia, a working jukebox, LED lights, colored tiles, leather seats, old movie posters and what not.
Seeing the theme, I was very excited to try the food. Macy's menu items are all over the place;  I mean from Filipino staple dishes to Ilocano delicacies to somewhat American Diner items. Fortunately, though, the food are affordable. Since I thought a place dressed like that would have a specialty on burgers, fries and the likes, I ordered their Hawaiian burger.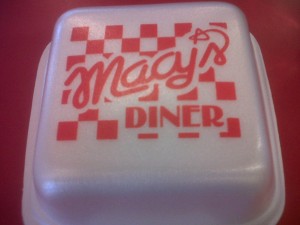 Macy's Hawaiian Burger
Description: burger patty with a slice of pineapple, some tomatoes, lettuce and cheese
Price:  ~Php 80 (can't remember exactly)
Serving: good for 1
The pineapple is a pleasant surprise, it gave the burger zest. But other than that, nothing much. The patty has not much taste, I don't even know if it's chicken or pork or beef but I doubt that's beef.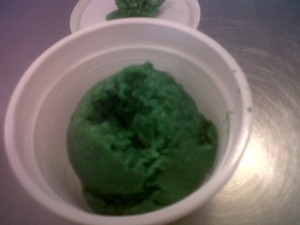 Macy's Green Tea Ice Cream
Description: it's supposed to be green tea ice cream
Price:  ~Php 50 (can't remember exactly)
Serving: good for
I was excited when I saw this in the menu; though a bit perplexed (why is there a green tea dessert in this kind of a place?) but hey, you know how much I love green tea! So I was bold enough to try this; and to my dismay, it's not what I had expected it to be. The ice cream is not creamy at all; instead it was more like a  frozen liquid (you know, the flaky texture?). And the taste, it was bitter and unappetizing  as a whole. But why am I not surprised? good green tea ice cream is really hard to come by.
Overall, I think the place has a solid concept and a huge potential. Unfortunately, they are trying to cater all food possibly available. I'm hoping what I ordered are their weak menu entrees. I hope they can focus more on improving the menu specially the taste of the food. They should stick more with their brand as well as their strengths and define exactly their position so they don't spread themselves to thin.  (trying to apply my current read, Trump University's Branding 101..haha)
We hope you are enjoying the weekend! 😉