This will be my 2nd post about my short, hectic, and fun weekend in Laoag.
Let me share my encounter with bagnet sandwich introduced by Johnny Moon Cafe. Johnny Moon Cafe is actually located in La Tabacalera Ilocano Lifestyle Center, a lifestyle and dining center, in Laoag.
I heard that the name Johnny Moon was inspired by the Philippine Hero Juan Luna (get it??? haha).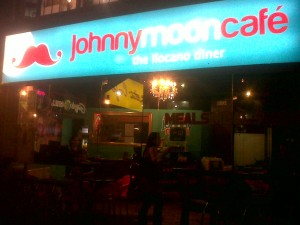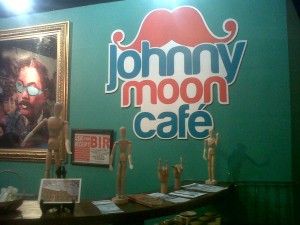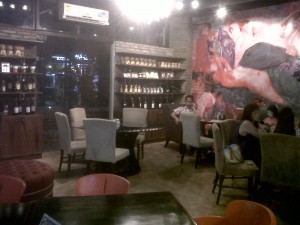 The ambiance in the cafe is super cozy and upscale which contrasts the whole image of Laoag City–laid back, simple and vintage. But I heard that's the whole idea for La Tabacalera, a hang-out place for tourists, for gimmicks, etc.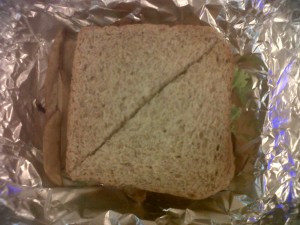 Bagnet Sandwich
Description: bagnet (deep-fried pork), tomatoes, onion, lettuce and honey mustard dressing in whole wheat sandwich
Price:  ~Php 175
Serving: good for 1
Johnny Moon Cafe boasts of it's true-Ilocano taste which is reflected in their menu. But the most remarkable item, according to Ilocanos themselves, is the Bagnet sandwich. Bagnet is like lechon-kawali or chicharon in the Southern Luzon (pls correct me if I'm wrong). It's deep-fried slabs of pork meat. Bagnet takes sometime to prepare since it's deep-fried in super hot oil until the skin hardens and pops. The crispier the skin, the better.
So just imagine slices of this delectable treat in a whole wheat sandwich with tomatoes, lettuce, onions, and honey mustard dressing. It's super good! The honey mustard dressing is the key to the sandwich's success! Plus to add more novelty to the meal, they serve this with kamote (cassava) fries! You read that right, it's not french fries. hehe
So when in Laoag, I highly recommend you drop by Johnny Moon in La Tabacalera, Laoag and try this innovative treat. Btw, there's no other nightlife in Ilocos for tourists but La Tabacalera, so you pretty much don't have a choice. hehehe 😉
JOHNNY MOON CAFE
Location: La Tabacalera Ilocano Lifestyle Center, Llanes cor. Gen. Luna (West of Capitol), 2900 Laoag City
Operating Hours:  Mon – Sun:8:00 am-11:00 pm
Contact No.: 077-7715636 or 077-772-1211 loc 119
Email add: johnnymoncafe@yahoo.com