About 2 months ago (I have so many backlogs!), I had to go to Laoag for official/personal business. My stay there was very hectic; luckily, I had one day to go around Ilocos Norte. Lots of love and thanks to the super accommodating and lovely ladies of RM Laoag; they made me feel at home during my short stay. These ladies inspired me in ways they may never know.  I admire their commitment; their passion; their heart and so much more. No wonder God has blessed them with beauty and grace; and of course, wonderful families.
OK, so much for the musings…this is a food blog so on to the FOOD!
The wonderful RM operators knew from their "source " 😉 that I am a food blogger; so they were kind enough to let me try delicacies from Ilocos Norte. I shall have a series of posts for my Ilocos Experience; let me start it with Herencia Cafe's Pinakbet Pizza.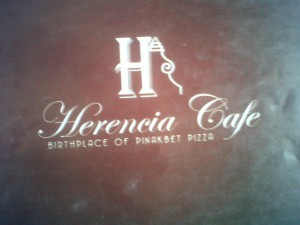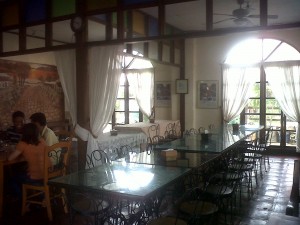 Herencia Cafe is found just in front of the St. Augustine Church of Paoay in Batac, Ilocos Norte. Oh, do you know that this Church is a UNESCO World Heritage Site? I've been to some UNESCO World Heritage Sites in Japan but this is my first in the Philippines (hopefully not the last this year..EHEM EHEM).
Herencia cafe is the birthplace of the ever so famous Pinakbet Pizza. For those who are not familiar with pinakbet, it's mixed vegetables (bitter melon, eggplant, tomato, okra, string beans, chili peppers, parda, winged beans, and others) boiled together and eaten with bagoong (fish sauce). So how will it taste on pizza?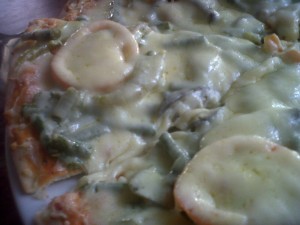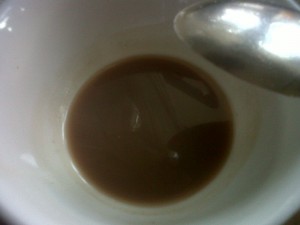 Pinakbet Pizza
Description: sitaw, kamatis on top of tomato sauce spread on thin crust pizza with lots and lots of oozing cheese
Price:  ~Php 330
Serving: good for sharing
If you will be visiting Ilocos Norte, you HAVE to try this. For non-veggie lovers, you might think this tastes like a nightmare (huh?!); but on the contrary, it tastes like cloud nine (whut??!!). Seriously, the melted cheese tied all the vegetable flavors together. You won't even taste that grassy vegetable aftertaste. The crust is superbly cooked, hot and crisp. They recommend you eat it with bagoong (fish sauce) but I prefer the regular hot sauce more. I wouldn't dare eat it cold; I think that's when the nightmare taste will come out. But for as long as it's hot, you can stay on cloud nine. For the same reason, my plan of taking home one was put on hold.
Please watch out for the other installations of my Ilocos escapade..
For now let me leave you with this picture of mine with Paoay Church in the background.. 😉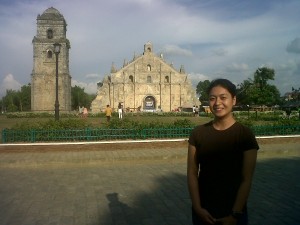 HERENCIA CAFÉ & SOUVENIR SHOP, CO
Brgy. 14 Sangladan, Paoay, Ilocos Norte, in front of St. Augustine Church of Paoay
Contact Number: (077)614-02-14
Email Address: herenciacafe@hotmail.com