After a lot of fun and adventure, our Cebu trip has finally come to a conclusion. Here's the last installation of my Cebu food trip posts.
That day, we wanted to buy lechon as pasalubong. And based on my previous posts here and here, we know how difficult it could be. We waited for about an hour just to get our mission accomplished. So we didn't have much time to eat. Good thing there's this popular local sausage joint in Cebu.Perfect on the go!'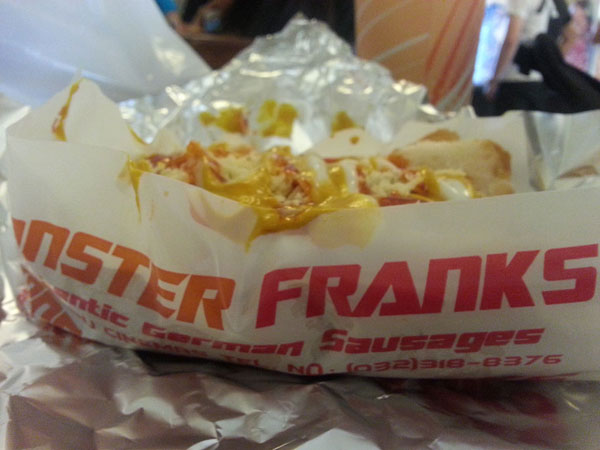 Monster Franks
Description: gourmet sausages in a bun or with unlimited rice
Price:  Php ~90 per sandwich/ rice meal             Php ~400 per 10pcs
Serving: good for 1
Monster Franks is a homegrown brand of Cebu. They boasts of their all natural, no preservatives, no extenders, and no MSG sausages. MF sausages are also locally manufactured in Cebu so Cebuanos are assured of its freshness and quality. The available sausages in MF are Bratswurst, Italian Garlic, Frankfurter, Cheezy Hungarian, Cheese Krainer, Hotlink, Andaway and Beef Franks; with Hungarian being their best seller.
And us, being Hungarian lovers, gave it a try. We ordered it with everything on it; pickles, onions, mustard, ketchup, mayo, cheese, etc. The sausage is cooked just the way we like it juicy and meaty. It really had that authentic sausage taste–lots of herbs and not too salty. I hope we would be able to go back and taste some more.
Btw, Monster Franks are open for franchising. You can contact them for orders or inquiries at 0917-308-8878 or (032) 406-9667. You can also refer to the photos below.
Monster Franks Branches:
SM City Cebu, 2nd Level near Cyberzone
SM City Cebu, 3rd level near Cinema 8
Ayala Center Cebu, Rustan's Supermarket
Ayala Center Cebu, Level 4 near Foodcourt
Parkmall Mandaue, alfresco area near SM supermarket
J Center SM hypermarket
J Center level 2, bridgecafe
Pacific Mall mandaue, ground floor
Shopwise Cebu, Basak
Here are some other pasalubong we took with us.
Turrones de Cebu. Definitely different from the one I use to eat in Laguna. Super yummy dessert.
This Ginger Ale we saw at the airport and we didn't have to think twice to buy it. We first and last tasted ginger ale in Japan and we were inlove since then; it's so unfortunate it's difficult to find it here in the Philippines. And when we saw it has a green tea flavor, sweet!
Peanut roll. This one I' not so much a fan of. i like the taste and all but I just can't take all the oil from deep frying. I hope there's an alternative way of cooking this delectable treat. We actually bought this in Cagayan De Oro because we had a connecting flight there from Cebu to Manila.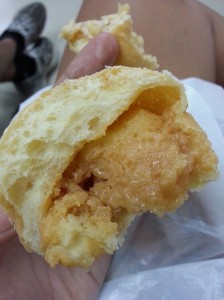 Vjandep Pastel. This is also from CDO. I seriously wanted to go back to Cagayan De Oro just to have this again. Pastel is LOVE. It's so delicious!It's basically a soft bun with yema/ custard filling inside. The filling is not too sweet to be overpowering; just right to be enchanting. What? haha!
Do you know where can I buy Vjandep in Manila? please let me know…Eatingness!