Holla! how are you guys enjoying this long weekend?
I'm in my hometown, resting and all; since I've just been to Cebu a few weeks ago. Speaking of Cebu, here's another post about my food adventure in the Queen City of the South.
Cebu is very well known for their amazing roasted pork (lechon). For those who are not familiar with lechon, here's a description from Wiktionary:
"… a roasted whole pig, piglet, or cattle seasoned in spices and roasted over charcoal using bamboo poles"
There are two famous places in Cebu that offers distinct and different lechon (their service and system are also very different)— CnT Lechon and Zubuchon. I'll feature Zubuchon in this post.
Zubuchon, according to Anthony Bourdain, is " the BEST pig…EVER". Was he right? I cannot not agree. 😉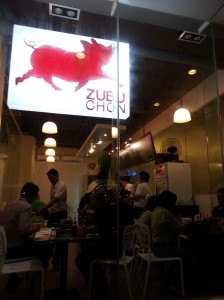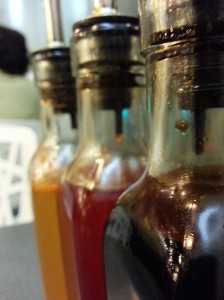 Zubuchon's interior is sleek and clean. The service is also fast and professional.  A waiter seats you, provides you with the menu and get your order.  We asked our waiter their bestseller and so that's what we ordered.
Zubuchon Lechon
Description: roasted pig with herbs
Price:   Php 450 per kilo            Php 140 (fast meal w/ rice)
Serving: good for 1
Zubuchon's lechon is a  different treat to the senses. It's not our usual lechon, it smells of herbs, a lot at that. And the taste for me, is sophisticated— subtle and not overwhelming. It's definitely different from the usual lechon you'll get around Cebu.
Zubuchon Dinuguan
Description:  stew of pig meat, skin (chicharon) and insides (intestines, etc) cooked in pig blood
Price:   Php 190 for sharing            Php 90 (fast meal w/ rice)
Serving: good for 1
Dinuguan is a popular dish in the Philippines. The root word "dugo" means blood in Filipino. It's usually cooked from the byproducts of butchering a pig such as skin, fat, and internal organs (liver, intestines, etc.). All these are stewed in pig blood. I think they put vinegar, hot pepper and garlic to take off the distinct blood taste. It tastes really good without the "funky" blood taste (excuse me for a lack of a better word). I also like that they put chicharon (popped/deep fried pig skin/ fat) which gives texture to the dish.
Zubuchon Dinuguan
Description: sweetened kamias made into shake
Price:    Php 90
Serving: good for 1
All the richness, fat and cholesterol may be overwhelming. Kamias shake, with its acidity, balances all that. It cleanses the palate so you can have more of the piggy goodness. hehehe…I was told kamias shake is a Zubuchon original. Thumbs up for that!
Overall, Zubuchon is a MUST try if you happen to be in Cebu. It has a sophisticated and balanced taste. I hope I can go back soon to try more of their lechon dishes. Eatingness!
Btw, if you're in Manila and want to order Zubuchon all the way from Cebu, it's good to know Zubuchon sends their signature lechon to Manila via air freight. See the picture below. Who said pigs can't fly?!! hehe
Below is Zubuchon's menu:
Zubuchon Branches:
 One Mango Mall, Gen Maxilom Ave, Cebu City, Cebu
(032) 239-5697
Escario Bldg., 731 Escario St cor Clavano St, Cebu City, Cebu
(032) 239 1225
Mactan:
Islands Stay Hotel Lobby, M.L.Quezon Avenue, Lapu-Lapu City
(032) 505-0130
Ending this with an artistically failed photo of us in front of Zubuchon Escario branch.