Another Cebu Foodtrip post and yes, about the deliciously glorious Cebu lechon again.
This time, I'll feature the older (not necessarily better) CnT Lechon. When you go to Cebu there will only be two places you're recommended to get Cebu lechon that being Zubuchon (see post here) and CnT lechon.
Of course, having this blog means it's my duty to go and taste both of them (sinisi na naman sa blog ang katakawan).
CnT Lechon
Description: roasted pig with herbs
Price:   Php 360 per kilo
Serving: good for sharing
Dinuguan
Description:  stew of pig internalorgans (intestines, etc) cooked in pig blood
Price:   Php ~60
Serving: good for sharing
More than the taste, there's a lot more differences between the rival lechon places. Let me relay to you my observations and experiences…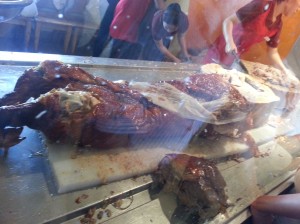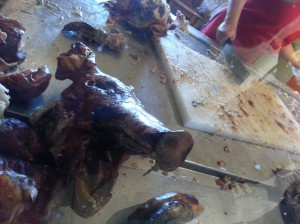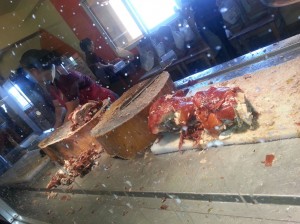 First, the ambiance and feel of the place; CnT is more of the traditional lechon store—raw and straightforward. Zubuchon has a more put-together system and dinning experience. Thank you to their corteous and gwapo waiters; City of Beautiful People, remember??!! haha!
For first timers, it's very easy to get confused with their system, simply because there's none. haha! No one will tell you the process on how to order. Probably because other customers are plain annoyed and the waitresses are just distressed. During rush/lunch hour, it's mayhem in there!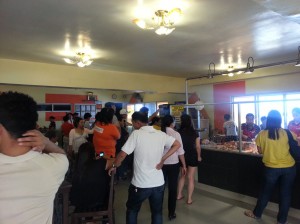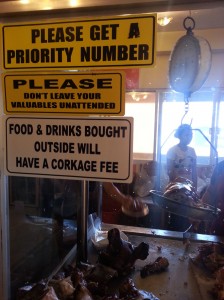 If you are to order cooked viand and rice, there's a separate counter. But if you are to buy lechon (which you will, right?!) you'd have to get a number first on the lechon counter. You don't give your order yet, you'd have to wait for your number to be called before ordering. This can take half an hour or more! In our case, it took about 3o-45minutes before our number was called and another 3-5mins before it was finally served. This means the rice and viand you ordered are now cold.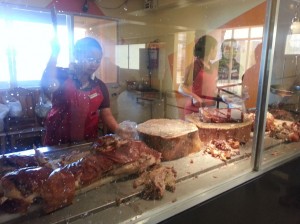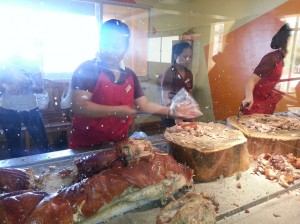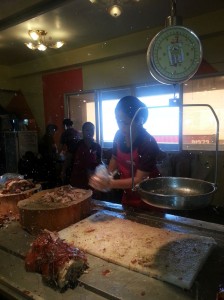 But I have to give it up to the "Ates" expertly butchering that pig! It becomes an art and discipline when they do it gracefully. I wanted to upload here a video of them but the file is large. Maybe next time; when i have time to upload to Youtube.
TIP: Wait near the counter for your number to be called you don't want to miss that chance! Don't eat here during lunch time specially when you're super duper hungry. You'll just be upset. And lastly, bring a lot of PATIENCE, don't worry, it's worth the wait 😉
Albeit the lack of systematic service, the lechon itself compensates for that. CnT lechon is so tasty and there's nothing subtle about the flavors contrary to that of Zubuchon's. CnT lechon's flavor is bold and rich which may be too overpowering to some but I bet most Filipinos like this flavor profile. Some parts of the lechon has a more salty taste than others, maybe it's with the distribution of the spices or something. But this can be neutralized by the rice.
Another difference are the viand varieties (what?), CnT only has lechon and dinuguan and the rest of the viands are veggies or other stuff. In the case of Zubuchon, they have a lot of lechon-derivative viands like pritchon, adobo, paksiw, etc. (I miss using that word, derivative. hehe missing Chem…or NOT!) Also, CnT doesn't have "combo" meals they only sell lechon by mass (what?! I hope you get what I mean..Chemist speaking. Enough!)
Honestly, I cannot say which is the better Cebu lechon simply because the flavors are incomparable. CnT and Zubuchon approached lechon differently specifically with the spices. There's only one thing I know, both of them are great! Definitely worth all the calories and cholesterol or NOT? You decide. Eatingness!
CnT Cebu branches:
1. Ayala Mall
Note: price here is more expensive by Php 100 per kilo.
2. SM City Mall
3. Archbishop Reyes Ave., Cebu City
4. V. Rama st., Guadalupe