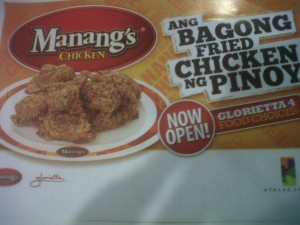 Hello again!
By the time you read this, I already have gone to the boxing gym; punching away! Thanks to scheduled posts! hehe
So you remember my Spice Jar post yesterday? We ate there again last night when I got back  from Manila; we are almost done tasting their whole menu. I'll give you an update on another post.
For now, let me share the 'bagong fried chicken ng Pinoy'—-Manang's Chicken. We all know a Manang or two in our local neighborhood. So it's seldom we find a venture withsuch name; but they just wanted to give credit to that one Manang who has that winning secret recipe for fried chicken. They started humbly in 2010 in a food bazaar and after 2 years, they have already expanded throughout the Metro.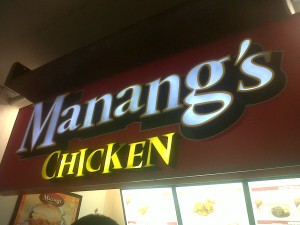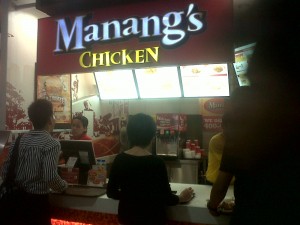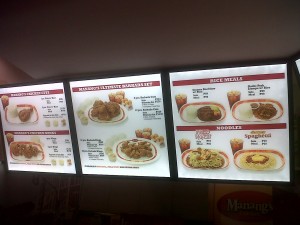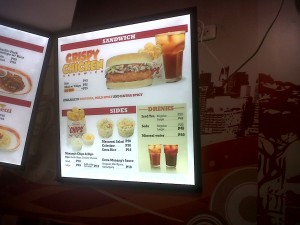 What's new to this fried chicken? it's double fried and their secret soy garlic sauce! I believe BonChon uses the same concept to cook that crispy-on-the-outside chicken.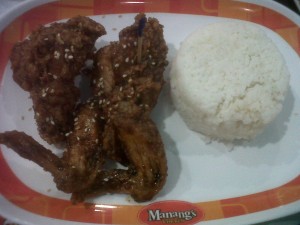 Manang's Chicken
Description: double fried chicken with their "secret" soy garlic glaze
Price: 1-piece meal Php 99      2-piece meal Php 149
Serving: good for 1
The chicken was undeniably crispy on the outside even if its covered with their secret soy garlic sauce. The chicken was also fried but it wasn't greasy. You can also have the soy garlic sauce in original, mild spicy or extra spicy. The sauce actually has a sweet-salty and garlicy taste to it. A piece of advice,the sauce has a tendency to be too strong for the palate. I believe the rice can solve this. 😉
Unfortunately, the "tasteperience" we had in Manang's Chicken in Glorietta was not as good as I would have hoped. Yes, the chicken was crispy on the outside but also too tough and altogether dry from the skin down to the meat. We were not sure if the chicken was pre-cooked and was just reheated before service. The sauce also was too overpowering (maybe the sauce was reduced too much or the water proportions was not right during preparation). I really hope this is an isolated case.
So if you are craving for that fried chicken,  try something different..try that of Manang's! 🙂
Btw, Manang's chicken is giving away free coupons which you can redeem in all their stores. Get your freebies and discounts by printing the voucher below:
Hear from Manang online at http://www.manangschicken.com
Get that chicken from Manang at the following branches:
ORTIGAS
AIC Gold Tower, Garnet Road
Ortigas Center, Pasig City (near Emerald/former NU107)
Monday-Saturday – 9:00 am to 10:00 pm
Sunday – 9:00 am to 6:00 pm
Delivery: 584-8848, 871-5037, 0922-842-7759
Location Map
KATIPUNAN
G/F One Burgundy Plaza, Katipunan QC
Monday-Sunday – 9:00am to 10:00pm
Delivery: 921-5907, 0922-816-4271
Location Map 
TAFT AVE
One Archers, Taft Ave.
Monday-Friday – 9:00 am to 10:00 pm
Saturday – 9:00 am to 6:00 pm
Sunday – closed
Delivery: 254-0842, 0922-816-4272
SM MEGAMALL
SM Megamall Food Court
Bldg. A, Lower Ground Floor
SM NORTH EDSA
Upper Ground Floor, The Annex
MAKATI
Glorietta 4 Food Choices
Delivery: 400-4673, 0932-862-6742
TOMAS MORATO
Unit 2&3, Lansbergh Place
Monday-Thursday – 10 am – 10 pm
Friday-Saturday – 10 am – 11 pm
Sunday – 10 am – 6 pm
Delivery: 376-5058, 0932-862-7350
BF HOMES – Now Open
#23 Agurre Ave.  Phase 1
BF Homes, Parañaque
Delivery:  519-6858, 0932-862-8209
WILCON CITY CENTER – Now Open
2nd floor
Visayas Ave., Quezon City
Delivery: 961-1631, 0923-742-4955
WEEKEND MARKETS:
Mercato Centrale
Bonifacio Global City, Taguig
Fridays and Saturdays
7:00am – 2:00pm
Midnight Mercato
Bonifacio Global City, Taguig
Saturdays and Sundays
10:00pm – 3:00am
Soderno @ Molito
Molito Mall, Alabang
Fridays and Saturdays
6:00pm – 3:00am