As I have promised in my Siomai post, I will be featuring more local food here and there. This post is again from my beloved hometown— Los Banos, Laguna.
I was browsing the pictures in my phone to find inspiration for my next post; then I ran into the pictures from my birthday this year. A friend of my "friend" actually has the same birthdate as mine. So this year, he invited us (me and "friend") to celebrate our birthday together in DALCIELO. It was very generous of him.. Thank you sooo much Sir! 🙂
We have been meaning to try DALCIELO but we never really had the chance since I only go home during weekends. And, we heard that DALCIELO is a haven for vegetarians since we are not a fan of vegetarian food; we didn't give it a chance. So that invitation was a blessing in the sky. hehehe..
By the way, DALCIELO means heaven sent in Italian. 🙂
So here's what we had for lunch in DAL CIELO..
PAKO SALAD
Type: garden of eden (salad)
Price: PHP 150
Serving: good for sharing
It was my 1st time to try pako (fern) salad. The fern has a slimy texture but it tastes awesome! There is some kind of zesty sauce that gives the dish some freshness and a bit of sweetness. The salad is very well complemented by the salty egg. It was worth the try!
SALMON with balsamic glaze
Type: redemption (entree salad)
Price: PHP 345
Serving: good for sharing (supposedly, it's a single serving but it's sooo big!)
I was overwhelmed when they served this. The salmon is huge! I think it can feed 2-3 people. The salmon was cooked spot on, it was moist and soft. But the fish was seasoned too salty for my tongue. The balsamic glaze is amazing it has this tangy and zesty taste probably from the balsamic vinegar and the capers; which actually balances the saltiness of the fish. The sauce also has spinach (not sure) that gives it a different texture. It was a hearty meal, I hit jackpot when I ordered this. hahaha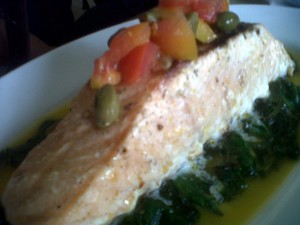 Salmon with balsamic glaze
Pork BBQ Spareribs
Type: transgression (entree meat)
Price: PHP 185
Serving: good for sharing (supposedly, it's a single serving but it's sooo big!)
The BBQ spareribs tastes good. Not salty nor too sweet. But with the big servings, you can't help but ask for extra (brown) rice. Yes, we are still trying to be healthy..ahahah
Blueberry Cheesecake
Type: salvation (dessert)
Price: PHP 150
Serving: good for 1 person but it's always good to share
This is your usual blueberry cheesecake— delicious and creamy. I think they used pre-made blueberry jam for the toppings. We have tasted better and worst cheesecakes and I would say, Dal Cielo's is in the middle. Not bad, noh?
Overall, the experience was very good (of course, free food!). The service is superb, food is awesome; though a bit pricey for the "student market" in LB. But it's worth the try. If time (and money) permits, we want to go back to try some other food in their menu. Specially desserts :))
I'm very grateful Dal Cielo gave me the permission to use their photos for this blog; so I can give you more information. 🙂
Dal Cielo's menu:
Here's how you can get there:
Don't forget to like our Facebook page here: www.facebook.com/eatingness
You can also like DalCielo's Facebook page here: www.facebook.com/dalcieloLB