It's a rainy Monday; I hope everyone gets a downpour of blessings.
Anyway, on to the topic. Here's the 2nd installation (click here for the 1st part) of the restaurant feature for CYMA Greek Taverna.
Remember in the 1st part of this post, I gave you our favorites. So below are other dishes we've tried from their menu.
MOUSSAKA
Type: meat entrée
Price: PHP 250
Serving: good for 1 person
Being Greece's National Dish, I just had to try this. Moussaka is seasoned ground pork and beef  layered with roasted Japanese eggplant and Greek bechamel sauce. The béchamel sauce was too rich for me, but it still tastes nice (I'm just not really a fan of béchamel).  Also a must try since it's the national dish, right?
SOUVLAKI
Type: meat entrée/ main dish
Price: PHP 340-450
Serving: good for 1-2 people
Souvlaki is the Greek version of Shish Kebab. This is grilled meat and vegetables in skewers served with pita bread and garlic yogurt sauce. They have chicken, lamb, pork, seafood or vegetarian versions of this. The serving, for me, is good for 1-2 people depending on how hungry you are. You can get Souvlaki for about PHP 340- 450 depending on the meat. Between Souvlaki and Gyro, I prefer Gyro more; not only is the price cheaper but the taste is spot on since the chef already assembles the whole entrée for you in pita bread.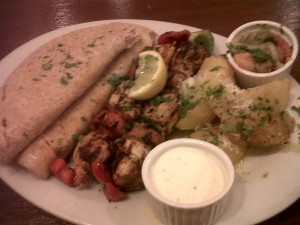 CYMA's Souvlaki (Greek version of Shish Kebab)
SAGANAKI (Flaming Cheese)
Type: appetizer
Price: PHP 200
Serving: good for sharing
Like flaming mangoes, I think you know why it's called flaming cheese. They have two versions of this:
a. Cyma Original which has Mozzarella, Parmesan and EVOO (Extra Virgin Olive Oil)
b. Traditional Greek  which has Kefalograviera Cheese
Of course, as you have guessed, they shout "OPA!" when they serve this.
PASTISADO
Type: pasta
Price: Solo  PHP 380     To Share  PHP 530    Family  PHP 730
Serving: good for sharing (as in SHAAAARRRRIIING)
Pastisado is a Greek pasta dish where big chunks of beef shank braised in Greek tomato sauce are served over spaghetti. We ordered this to share because we thought it would just be right for two matakaw hungry people. But we were overwhelmed to know that it can serve as much as 4-5 people. So we still have food to take home.
Just wondering, when they say family size; do they mean FAAAAAMMMIIILLLLYYY? Ahahah
YIOUVETSI
Type:  rice shaped pasta
Price: Solo  PHP 380     To Share  PHP 430    Family  PHP 650
Serving: good for sharing
We are so amused by this dish because of the Orzo or rice shaped pasta, its rich flavor and its heaviness (maybe it's the carbs from the orzo). It's served with baked lamb, grated parmesan, parsley and EVOO (Extra Virgin Olive Oil). This may be a potential regular. hehe
So that's it.. With this lengthy post, I think you have an idea how much I like this restaurant.  And I can assure you, after eating here, you'll surely exclaim: "OOOOPPPPAAAA!"
I'd like to hear from you. You can post a comment about your favorite restaurant or your favorite Mediterranean cuisine or just about anything.
By the way, OPA is a Greek expression of some extreme emotion usually of excitement or joy (i.e. YEAH!)
If you liked the post,please also LIKE our Facebook page here: www.facebook.com/eatingness
You can visit CYMA in their branches:
Alabang Town Center
Upper G/F Corte de las Palmas
Alabang Town Center, Muntinlupa City
(02) 836-2432
Shangri-la Plaza
Level 6, Shangri-la Plaza Mall, Mandaluyong City
(02) 637-3090
Greenbelt 2
G/F Greenbelt 2, Ayala Mall, Makati City
(02) 986-4594 / 729-4837
Trinoma
Level 4, Trinoma Mall, Quezon City
(02) 915-2859
Eastwood
Level 2, Eastwood Mall, Libis, Quezon City
(02) 709-1955
Robinsons Place Ermita
2nd Level, Robinsons Place
Midtown Mall, Ermita, Manila
(02) 354-3909
Ayala Mall Cebu
Garden Level, The Terraces
Ayala Mall, Cebu City
(032) 417-1351
D'Mall
D'Mall Boracay, Aklan City
(036) 288-4283
Reach them online: http://www.cymarestaurants.com
 *I'm so sorry for the poor quality of the photos. I'm just usually using my phone so please bear with me.