This post is so loooooong overdue (but never forgotten).
OK, so on to the topic— healthful sandwiches of The Sandwich Guy!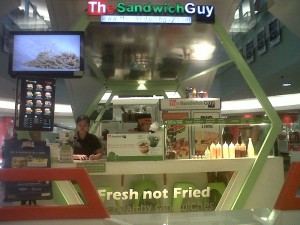 So you would think, why the heck do I want sandwich instead of a full-blown meal? simple: I'm trying to control my calorie in take but above that, these sandwiches, for me, are at  par with your rice meals. Yes, these sandwiches are as filling as your average rice meal and prolly more tasteful. There are several instances where a friend of mine is doubtful if TSG can satisfy his/her appetite and everytime, TSG proves them wrong. haha!
A colleague actually introduced TSG to me and we were hooked for quite sometime. I have tried all their sandwiches in the menu, and I can say that all of them are GOOD! You can order anything from their menu and you can be at peace that you will get GOOD STUFF. Their claim is that they are always FRESH not FRIED; and they are indeed!
So let me just share to you my favoriteS:
HBLT Sandwich
Type: hexagonal whole wheat bread with ham, bacon, lettuce and tomatoes
Price:  PHP 85
Serving: good for 1
What makes TSG's sandwiches so good is their fresh ingredients. All the ham, bacon, cheese and veggies work so well together with the whole wheat bread. No frying, no preservatives just pure freshness. Also, your sandwich is prepared on order.
Italian Style Sandwich
Type: hexagonal whole wheat bread with Spicy italian ham, pepperoni and cheese
Price:  PHP 80
Serving: good for 1
Italian style is so much different than HBLT in taste. I think that's because of the "italian" spices in the meat. If you put ketchup on it, it somehow resembles the flavor of pizza probably due to the pepperoni. hehehe
Country Tuna Sandwich
Type: hexagonal whole wheat bread withPacific tuna in brine and potatoes in lemon aioli dressing
Price:  ~ PHP 75
Serving: good for 1
I like the pineapple in this one, sooo refreshing! But this sandwich didn't need to try hard to get my approval; just the fact that it's a tuna sandwich is enough. haha!
BIGTIME Sandwich
Type: hexagonal whole wheat bread with three delis, cheese and veggies
Price:  ~ PHP 125
Serving: good for 1— make that 2
Bigtime is perfect for those with BIG APPETITE. With this double deck sandwich and lots of delectable delis, creamy cheese, and crunchy veggies in between, how could you go wrong??? This sumptuous sandwich meal will surely satisfy your appetite.
Overall verdict? Well, all I can say is that be careful when you try TSG 'cause you'll prolly be hooked! Don't say I never warned you..haha! But seriously, their hexagonal whole wheat sandwiches are all WINNERS! Seldom do we get a restaurant wherein all entries in their menu are good. Two thumbs up, TSG! Eatingness!
Don't forget to like our Facebook page here: www.facebook.com/eatingness
Reach The Sandwich Guy online here.
TSG Branches:
Cybergate Tower 1 | McKinley Hill | Total Corporate Center | Sun Plaza Building | Pacific Star Building | Robinsons Summit Center | Eastwood City | Net Plaza Building | One E-com Center – Mall of Asia | Strata 2000 | Alphaland | Dela Rosa | SM The Block | Galleria | SM Megamall