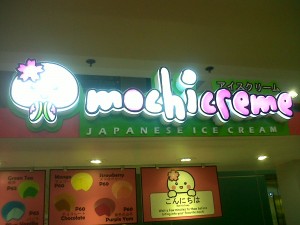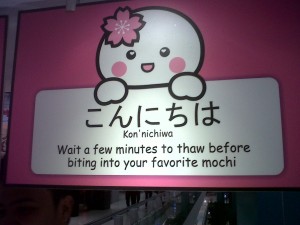 Wouldn't you agree that this food stall is SUPER KAWAII (cute)????
This stall offers ice cream wrapped inside frozen mochi (Japanese rice cake); super in this super hot summer. Ice cream flavors vary from your usual ice creams (ube, strawberry, vanilla, chocolate, etc.) to something different (green tea, azuki beans, black sesame, etc.)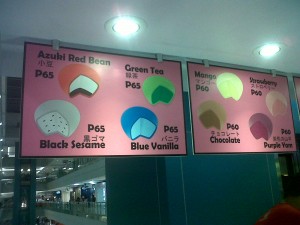 Here's my pick…
Green Tea
Description: frozen mochi (japanese rice cake) filled with green tea ice cream
Price: PHP 65 per piece
Serving: good for 1
Yes, you got that right, GREEN TEA. What else would you expect me to like? haha! What's really amazing about this is the green tea ice cream inside. This flavor is really hard to come by..only Häagen-Dazs® has a decent one for me. But we all know how expensive their ice creams are. So when I tasted Mochi Creme's green tea ice cream, it was heaven! The taste resembles that of  Häagen-Dazs®; its a more affordable alternative.
On to the whole mochi ice cream, the ice cream is inside frozen mochi so its a bit hard to bite in. You have to let it thaw for a few seconds. The mochi in itself has not much flavor which balances and enhances the flavor of the ice cream inside.
Over all, mochi ice cream is a definite must try! Something different to battle the heat. Btw, their branch is at 3F Megamall A; I'm not really sure if they have other branches.
EATINGNESS!
Don't forget to like our Facebook page here: www.facebook.com/eatingness