I'm seeing a pattern here– once a week blogging. NOT GOOD!
Anyhoo, time for another BURGER post! Since I'm trying to minimize the damage brought by eating too much and sedentary lifestyle this blog (haha!), let me share with you a burger joint that promises that same burger satisfaction at lesser calories.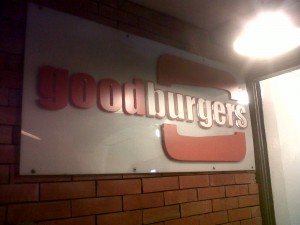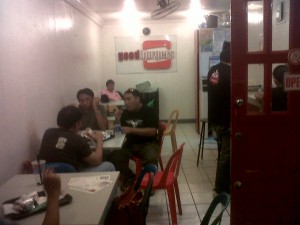 GOOD BURGER offers lean meat patties, chicken and vegetarian. Though it may be ironic to eat a burger and want it to be healthful,  hey, at least we have a "more healthful" choice. Whenever we eat burger, we always have high expectations and I can say good burgers is definitely not bad.
This joint has an array of burger sauces and dressings. You can order your burger in 3 sizes: good (1/8 pound patty), better (1/4 pound patty), and best (two 1/4 pound patties). Below are the ones we tried.
Margherita Burger
Type: burger with tomatoes, cheese and BASIL!!!
Price:  good     PHP 95             better      PHP 105            best    PHP 120
Serving: good for 1
This is a hit for us. Who would have thought that basil is good in burgers?? Well, I never knew until I tried this. The tomato, cheese and basil worked so well together, it is an explosion of harmony in every bite (what??? haha!)This burger is the best of all the three we tried.
Persian Burger
Type: burger with sauteed onions, pepper and garlic aioli sauce
Price:  good     PHP 75             better      PHP 85            best    PHP 100
Serving: good for 1
This is a little different. I was expecting for the shawarma-like taste but I didn't get that. However, I think the garlic aioli sauce is a take on the garlic yogurt sauce we use to have with our shawarma. Btw, aioli sauce is simply a garlic mayonnaise sauce or spread.
 Silly Burger
Type: burger with sour cream, garlic chili and cheese
Price:  good     PHP 75             better      PHP 85            best    PHP 100
Serving: good for 1
This one, I was totally not expecting. I thought, by the name, that there is something extraordinary with the burger something SILLY, do you get me? haha! so stupid of me. It's so unfortunate that I don't have an idea on how the ingredients taste so I really didn't know what to expect. Silly burger turned out to be just silly as in spicy because of the chili and all. This one is for the spicy food lover.
Cayenne Potato Wedges
Type: potato wedges sprinkled with a lot of cayenne peppers
Price:  PHP 45
Serving: good for sharing
These are your basic potato wedges with a cayenne pepper. This made me sneeze a lot.hahaha
Overall, GOOD BURGERS is a nice "good" alternative if you re down for some healthful burgers. For first timers, stick with their bestsellers. I highly recommend the Margarita burger. Are they really GOOD and LEAN? Go and try for yourself. EATINGNESS!
Don't forget to like our Facebook page here: www.facebook.com/eatingness
Good Burger Branches:
C5 Pasig

Kapitolyo

Greenhills

Sikatuna
They delivery  for a minimum purchase  amount of P200.