It has been a while since I've written a post here. I'm caught up with a lot of things at work; plus, we are preparing for a new venture. We are actually super excited can't wait to execute and announce it here.
Anyway, a few weeks back, I and a fellow foodie colleague decided to have a nice lunch near the office. We don't have any idea where to go  until I got the suggestion from a post on Instagram. Yes, Eatingness is on Instagram now! Please follow us @eatingness or @consortia.
Anyhow, I recalled from that post that this specific resto serves guilt free meals. By guilt-free, I mean every calorie of every meal are accounted for; sweet eh? And what's sweeter is the fact that it's a good five-minute walk from the office. I'm talking about no stress eating at Yellow Halo Guilt-Free Kitchen.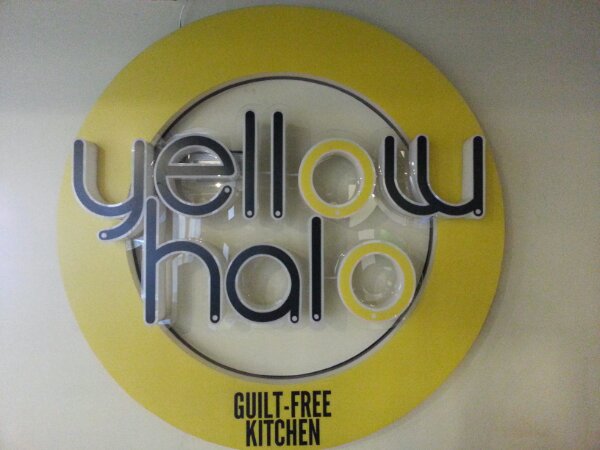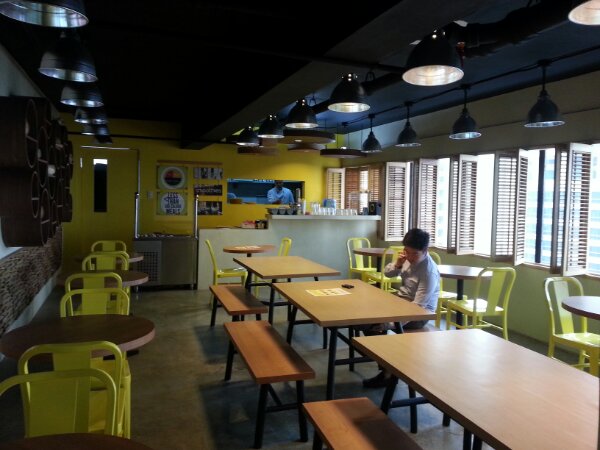 Spot my colleague right there! Hi Dave! HAHAHA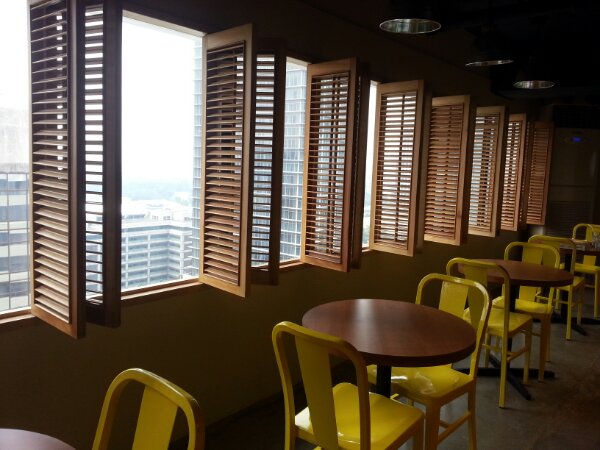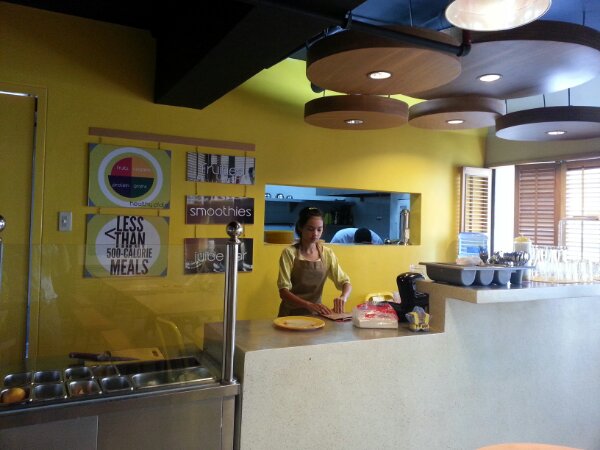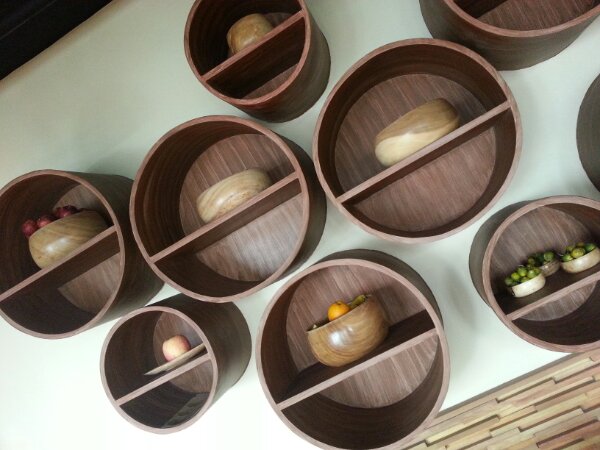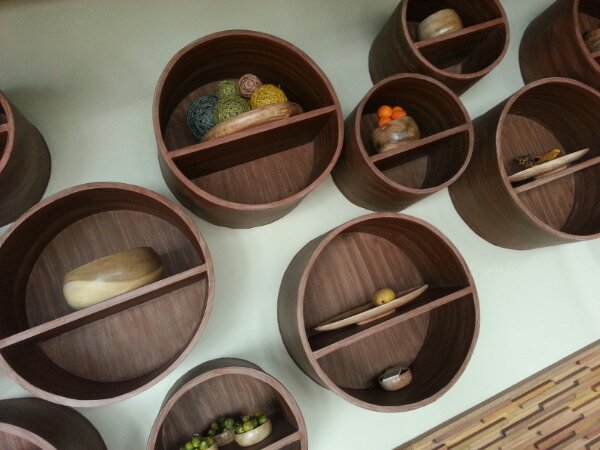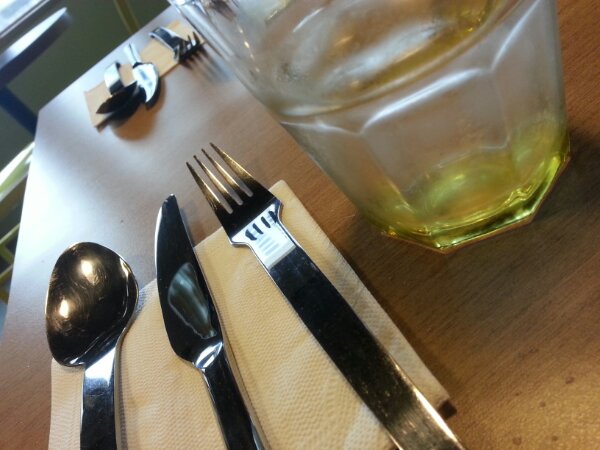 Upon entering the place, we instantly dig the vibe. The place has contrasting decor elements of metal, wood  and glass; giving it a dynamic and homey vibe, perfect for their young and  active target market.  The Yellow Halo restaurant in Strata 100, Ortigas is surrounded by gyms, wellness centers, and what not making their calorie-friendly menu very fitting to the crowd.
I also like the attention to details; most of the decorations including the utensils is coherent with the brand. Can you see the hint of yellow in the glass? I actually thought the water has something special. Haha
So here's what I had for lunch:
Tuna Whole Wheat
Description: whole wheat pasta with olive oil, basil and tuna; a total of 290 calories
Price:  ~Php 150
Serving: good for 1
I wasn't really expecting much in terms of taste and/or volume due to my general notion of  guilt-free/ healthful food. But I was totally mistaken! In terms of size, it's really not much since the idea is to control the calories; but in terms of taste, it was good!!! The flavor of  basil gave the dish a clean finish. The serving of tuna is generous; plus, I can taste that the tuna is fresh not canned (two thumbs up!).  At the end of the meal, I was fully satisfied with the flavor unlike other dishes that fills the stomach just by mere volume.
Tomato Basil Cottage Cheese
Description: wheat bread with cottage cheese, fresh tomatoes and basil; a total of 260 calories
Price:  ~Php 90
Serving: good for 1
Please don't judge..haha! I was just so curious with this sandwich that I convinced my colleague to share it with me. And it was well worth the extra calories! I didn't know that cottage cheese, tomato and basil complemented so well. The tomato's acidity was balanced by the cottage cheese's salty flavor.
Yellow Halo's menu caters to different diets. They have high fiber plates for your daily dose of leafy greens, low fat meals for lesser saturated fats and cholesterol, high protein dishes for building those muscles, as well as gluten-free dishes.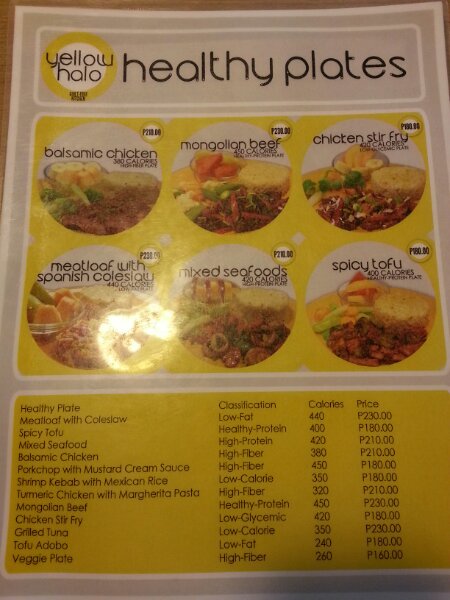 Yellow Halo's Menu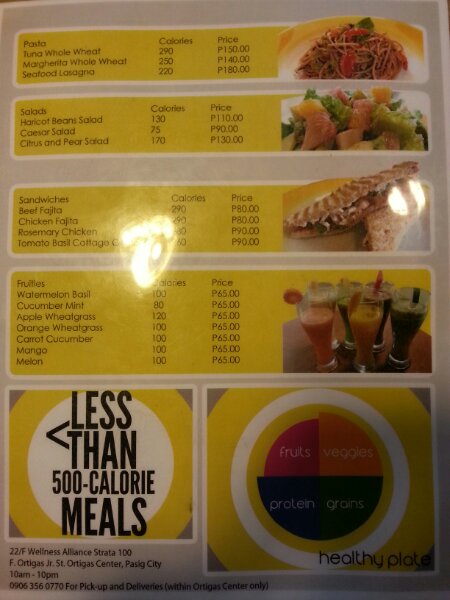 Yellow Halo's Menu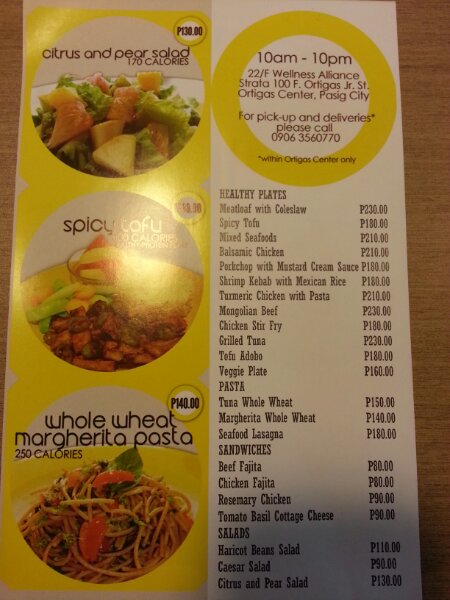 Yellow Halo's Delivery Menu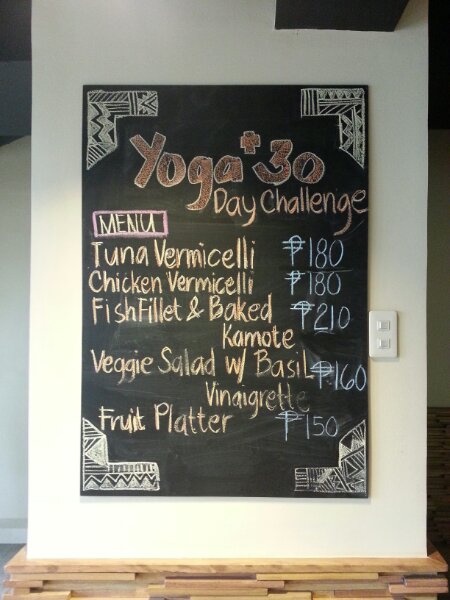 Yellow Halo Guilt Free Kitchen
22/F Wellness Alliance Strata 100 F. Ortigas Jr. St. Ortigas Center, Pasig City
Mondays to Fridays 10AM-10PM ; Saturdays 10AM-8PM
Contact No.: 0906-356-0770