With the rising fame of milk teas in UPLB, here's a new  milk tea shop that's just outside the "gate"— Tea to Jeri's Tea Shop.
What makes this tea shop different? they don't just offer you something to sip but also something to eat. You get FREE Jerico's bread for every purchase of tea (talk about value for money!). Everybody in eLBi knows Jerico's bakeshop, right?
Tea to Jeri's offer the usual fruit teas and milk teas; though I've only seen Black Sesame and Peanut milk teas there. So here's our experience…
Tea To Jeri's Wintermelon Milk Tea
Description: wintermelon milk tea (can't find any other description..haha)
Price:  Php 45 (12 oz.)      Php 55 (16 oz.)     Php 65 (22 oz.)
Serving: good for 1 or you can also share 😉
We wanted to be safe and get a reference point for the taste of their teas; so we ordered the usual wintermelon milk tea with added pearls of course (+Php 10). To our delight, their wintermelon did not disappoint! It's sweet and creamy just how we like it. Not to mention it's a bit cheaper than our favorite brand. The only thing we wish improved is the tapioca pearls. It's a bit tough for my preference; but other than that, it's a contender.
And because we liked the wintermelon, we decided to taste their other offerings. I've only seen peanut milk tea in Tea to Jeri's so we gave it a try.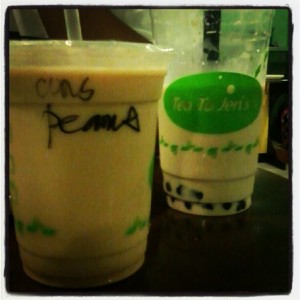 Tea To Jeri's Peanut Milk Tea
Description: milk tea base with ground peanut bits
Price:  Php 50 (12 oz.)      Php 60 (16 oz.)     Php 70 (22 oz.)
Serving: good for 1 or you can also share 😉
It's my 1st time trying a peanut milk tea so I really didn't know what to expect. The base is a milk tea drink (not sure what kind of tea) and the twist comes with the ground peanut bits. I think the  peanut flavor solely comes from the ground peanuts rather than a powder flavoring or a syrup concentrate. It's definitely something for those food adventurers.
Right now, they offer student discounts and promos.
Here's a peek of their menu:  
 P.S. what do you think of my instagram photos? hehehe 🙂
UPLB SChemEs got an exposure here..haha! ChemSoc should also have! Will work on that. hehehe