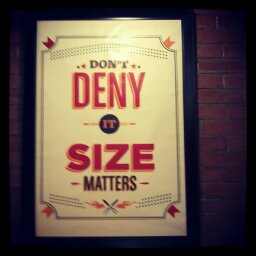 Don't Deny It— Size Matters. Whatever you may think of, I'm not responsible for, ok? haha!
But personally, size actually, really, and truthfully matters when it comes to—-FOOD. I'm not only talking about the serving but the taste as well. Anyway, who would want so much food that doesn't taste good, right?
I think this is the promise of Size Matters, humongous food in serving and taste. They specialize in sausages; yes, size matters in and sausages. haha!
Onto the food… 😉
Chili Cheese Fries
Description: fries with jalapeno, cheese and chili con toppings
Price:  Single    Php 99          Sharing    169
Serving: good for sharing
I actually consulted the internet first before going here. Based on my research, it's highly recommended to try the chili cheese fries for starters. And me being a sucker for chili and cheese, I gladly complied. So the aroma is super appetizing, prolly because of the jalapeno. The fries is just the usual fries. The chili is somewhat mild for me; I hope there could be more flavor. Overall, it all comes very well together. It's a definite must-try!
Sausage Lasagna
Description: layers of lasagna with sausage bits and tomato sauce covered in melted cheese
Price:  Php 145
Serving: good for 1 or you can also share 😉
Based on my research, again, sausage lasagna is also a must try. And indeed it was! The lasagna is super good. It has gooey cheese, tomato base, layers of lasagna and of course their main ingredient, sausage bits. The sausage gives it a salty flavor which is balanced by the tomato sauce so it's not overly done. Two thumbs up for this!
Italian Garlic Sausage Burger
Description: two 1/4 lb (1/2 lb in total) sausage burger patty with lettuce, tomatoes, onions, and mayo in oat bun
Price:  1/2 lb Php 189              1/4 lb Php 129
Serving: good for 1 or you can also share 😉
Last but definitely not the least, is Size Matter's sausage burger! You can actually choose the variant of your sausage patty; choices are beef and sausage, breakfast, italian garlic, and pepperoni. You also can choose the size of the patty, a 1/4 lb or a 1/2 lb. Then, you also have a choice of a regular sausage burger or a gourmet burger. Regular sausage burger means having sausage burger patty with lettuce, tomatoes, onions, and mayo in oat bun. A Gourmet burger has some other ingredients such as caramelized onions, Monterey Jack, egg, etc; it actually depends on the burger (see the menu below).
We had the burger upgraded with potato wedges (+Php 50) and 36 oz iced tea (+Php 30). This gives more value than just ordering the iced tea separately. 😉
Lemon Iced tea
Description: iced tea with lemon zest (I can't think of any other description)
Price:  14 oz Php 40             22 oz Php 60               36 oz Php 80
Serving: good for 1 or you can also share 😉
Their iced tea servings actually screams BIG! I was really surprised at how big their 36oz iced tea is! The mug is bigger than my face!haha.. But the taste doesn't disappoint. It actually taste like Bonchon's. 🙂
They also serve local and imported beer: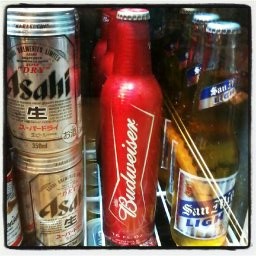 Overall, they convinced me that Size really does Matter.haha! On a more serious note, I think their food is BIG in TASTE and SERVING; the concept is solid and the place is supercozy. Hopefully, I can taste their sausage links sometime and tell you what size they are; I mean, how big their taste is. 😉
See for yourself if Size really does Matter in sausage burgers. hehehe
Size Matter's Menu:
Size Matters Sausage Burgers
Location: G/F 500 Shaw Zentrum, 500 Shaw boulevard, Mandaluyong City, Mandaluyong, Philippines
Operating Hours:
Mon – Thu:10:00 am-11:00 pm
Fri – Sat:10:00 am-1:00 am
Sun:10:00 am-11:00 pm
Contact No.: 625-2030
Email Address: sizematterssausages@yahoo.com