Hello there! I almost forgot I have a blog— NOT! I've just been super busy lately with work and some other personal stuff. But worry not, I am back with a bang! (am I?)
You already know by now I'm a huge sucker for everything with green tea. Another thing you need to know is that I like peanut butter so much! Especially the creamy luscious ones from Baguio (BSU). Thanks to our sponsor Tita Senen! hehe 😀
Just imagine how happy and excited I was when I learned you can have both in one sandwich! Yes, you read that right, I found a restaurant that offers green tea flavored peanut butter! Sweet!
PB Co. a.k.a. Peanut Butter Company offers all sorts of flavored peanut butter from the regular creamy ones up to the weird ones with chili and sun-dried tomatoes as well as everything in between!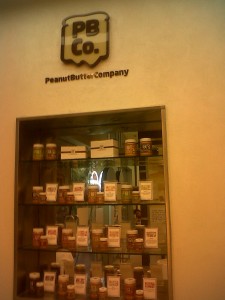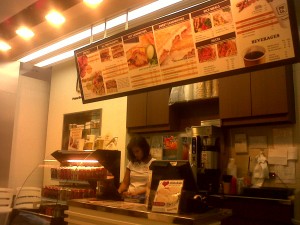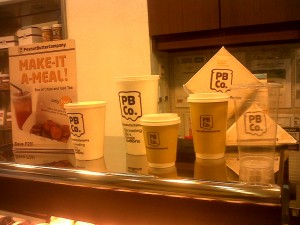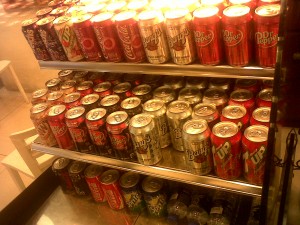 You would think they only serve sandwiches, but WE ARE WRONG! They also serve pasta  dishes, burgers, chicken meals all with peanut butter!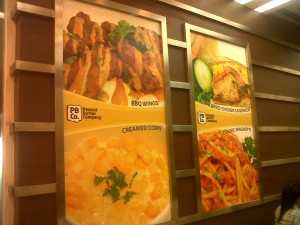 P.B. Co.'s Flavored Peanut Butter
Description: peanut butter with a little twist
Price:  Mini ~Php 55          Large ~Php 250
All of P.B. Co.'s peanut butter flavors: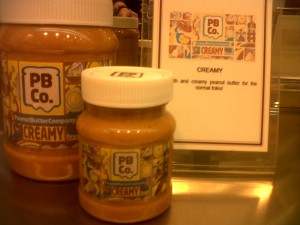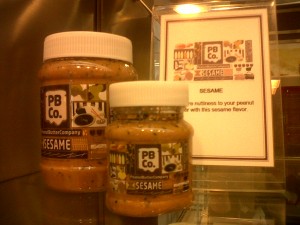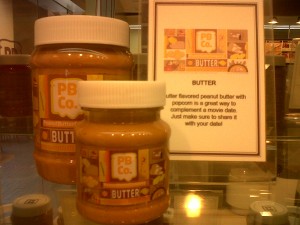 They also have combo sets that includes a pasta dish (sauce=peanut butter), PB sandwich and an iced tea. You can upgrade the regular PB sandwich to a flavored one by adding Php 35. The pasta choices are classic spaghetti (sauce = PB w/ sun-dried tomato), cold asian noodles (sauce= PB w/ sesame), curry chicken spag (sauce= PB w/ curry), and fish diablo pasta (sauce= PB w/ chili).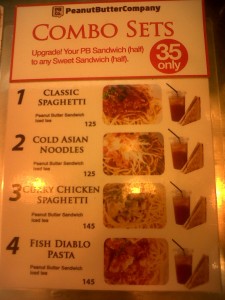 Fish Diablo Pasta
Description: pasta with fish (forgot what fish) and PB w/ chili  sauce and sun-dried tomato
Price:  Ala Carte Php 185         Combo Set Php 145
Serving: good for 1…reaaaalllyyyy GOOOOOD!!!
This one is a winner (but everything here for me is!). By the name, you can conclude that this is a spicy pasta; and indeed it was! The sauce is made from PB w/ chili. No tomato sauce, just peanut butter! Amazing!
Chicken Curry Pasta
Description: pasta with chicken and PB w/ curry  sauce
Price:  Ala Carte Php ~Php 180     Combo Set Php 145
Serving: good for 1…reaaaalllyyyy GOOOOOD!!!
This pasta has PB w/ curry. I know, peanut butter and curry??!! are you out of your mind?!!! Well yes, I AM OUT OF MY MIND! It's surprisingly delicious believe it or not.
Elvis, The King Sandwich
Description: sandwich with crunchy peanut butter, bacon, and banana slices
Price:  Ala carte ~Php 170
Serving: good for 1…reaaaalllyyyy GOOOOOD!!!
I honestly don't know the reason behind the name. But as it is named after the legend, I can safely say the sandwich has the potential to be a legend. We never thought that peanut butter and bacon would click. But it did very well! Such a sweet-salty treat!
Vanilla Green Tea Sandwich
Description: PB w/ green tea sandwich with rice crispies and vanilla spread
Price: half sandwich Php 75         whole Php 150
Serving: good for 1…reaaaalllyyyy GOOOOOD!!!
This is MY FAVORITE! I wasn't aware that they have green tea peanut butter before I walked into the store. Knowing that they have everything with peanut butter was enough for me. But to add to my delight, they have GREEN TEA flavored PB! AMAZZZZZIIING!!! This restaurant was conceptualized having  me in their mind. ahhahaha
PB Burger
Description:  beef burger w/ tomato, lettuce, sesame PB, and peanut cucumber sauce (not sure)
Price:  Php 185
Serving: good for 1…reaaaalllyyyy GOOOOOD!!!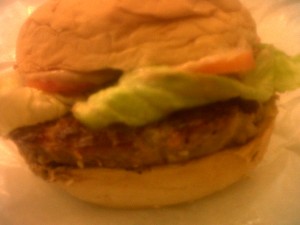 Yes, another wild combination. But remember, those experiences that actually surprise us are usually the ones we cherish the most (what?! 😀 ) Same thing goes for food, those that gives us some surprise are actually the ones we never forget. Just like this one! We cannot imagine how peanut butter in burger would taste but surprisingly it worked so well together. The PB w/ seasame sauce was creamy, buttery and a little sweet while the patty is juicy and a bit salty. Recommended for those with adventurous palette.
P.B. Co. Iced Tea
Description: tastes like tamarind iced tea
Price:  ~Ph 40
Serving: good for 1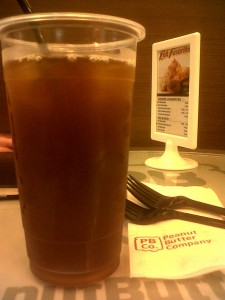 Pb Co.'s iced tea reminded me of P.F. Chang's tamarind iced tea. But this one is more subdued.
By the length of this post, I think have an idea of how much I like the concept of this resto. A super duper must-try!
P.B. Co. Branches:
G/F North Parking Bldg.
SM Mall of Asia, Pasay City.  
02-543-2707
Monday – Sunday
10:00 a.m. – 09:00 p.m.
G/F Paseo Center, 8757
Paseo de Roxas, Makati City.
02-553-3326
Monday – Friday
07:00 a.m. – 09:00 p.m.
Closed Saturday & Sunday
2/F Regis Center, 327
Katipunan Avenue, Quezon City.
02-990-3100
Monday – Sunday
09:00 a.m. – 11:00 p.m.