So it's a long weekend I hope you are enjoying joining (even in spirit) the observance of the Lenten season.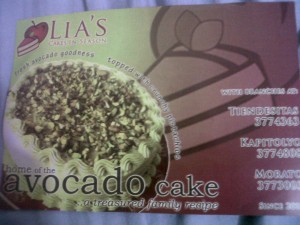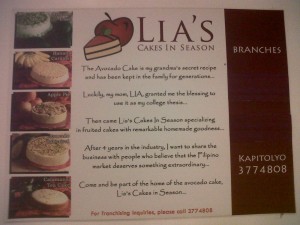 Why cake? pretty simple… It's the special day of a very special person in my life; he's the reason I'm blogging. Wala ka na sa kelendaryo! 8! haha… Also, we weren't able to buy cake because most stores are close today (and prolly tomorrow also); hence, a cake post.. it's the next best thing.. haha!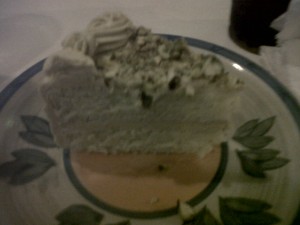 Avocado Cake
Description: dessert
Price:  PHP 85/ slice       PHP 670/ cake
Serving: good for sharing
Aside from green tea, I'm also a sucker for avocado (I like green things..haha). Do you also like when you combine mashed avocado with (powdered or condensed) milk then cooled in the fridge? such a treat! I always look forward to that season of the year.
Anyhoo, when I saw this on a deal site and figured it's just close to my place in Pasig, I had to give it a try. Lia's flagship cake is their avocado cake. It's not everyday you see an avocado cake, right? All I have to say is that it's worth the  MUST try! The frosting is not too sweet with a subtle hint of avocado ; the cake itself is moist and fluffy. There are (pistachio) nuts on top that very well compliments the texture and taste of the creamy avocado cake. I'm drooling right now. haha
This is next, can't wait!
Hope you'll enjoy the break! 🙂
Lia's Cakes in Season has three branches:
1. Kapitolyo Pasig
2. Tiendesitas
3. Morato
Don't forget to like our Facebook page here: www.facebook.com/eatingness
P.S. this is a recycled greeting from 2011
To my mentor, friend, teacher, motivator, coach, critic, business partner, brother, textmate, chatmate, callmate, coffeemate, food trip-mate, travel mate, running mate,swimming mate, movie mate, discussion partner, driver, alalay, nurse, sounding board..
A happy LAPPY birthday to you!
MALIGAYANG KAARAWAN! 8! ♥ ♥ ♥