Have you heard of KFC's newest addition to their burger line? the CHEESE TOP BURGER!
KFC just launched this out-of-the-ordinary burger. As the name implies, this burger has its cheese outside and on top of the bun, cute right? hehe
I'm a huge fan of KFC's Streetwise so there's no hesitation trying the cheese top burger. Btw, do you also love their Php 50 chicken steak meal that they now replaced with the chicken shots meal? How I wish they would bring back the chicken steak, it's so much better taste-wise and value-wise.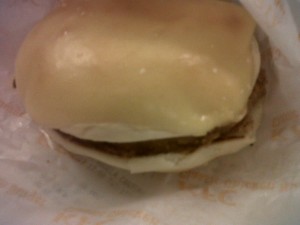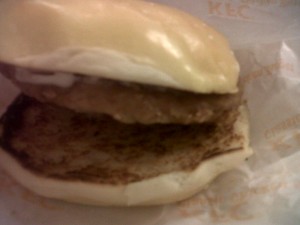 KFC Cheese Top Burger
Description: cheese topped bun burger with KFC's signature Original Recipe chicken patty with rich Garlic Parmesan dressing
Price:  Php 50 (+regular  drinks)     Php 79 (+reg drinks & fries)
Serving: good for 1
The aroma of the cheese is so inviting since it's the first thing you'll smell before taking a bite. The patty still has that KFC-taste. The garlic parmesan dressing is something; it really has that garlicy sting and the parmesan-saltiness. The burger could be a bit too salty if eaten on its own but ketchup can balance this. How I wish there's an option to add some leaves/ vegetables to it; that would be a WINNER!
I recommend you try this unusual treat. It's available in all KFC stores nationwide.
—Update as of July 3, 2012—
KFC's Cheese top burger has quite made a buzz for the past weeks. There's a viral video commentary by Jimmy Kimmel featuring a commercial spoof of KFC's cheese top burger. Some may find it funny, some offending; all I can say— see for yourself 😉
[youtube id="B1eX_qtJhB0″ width="620″ height="360″]
Here's the original TV commercial of KFC's Cheese Top burger uploaded by KFC Philippines entitled "Truth Hurts" (why the title KFC Philippines? haha)
[youtube id="_A5StHnVoFc" width="620″ height="360″]