Hi there! I almost forgot I have a blog to update. Been super busy lately with work and a new venture. Watch out for our new project, we're bringing a homegrown brand to Manila! Super excited!
Last weekend, we (my siblings and I) visited a family friend in the hospital as representatives of Mama. We hope she gets a speedy recovery. The whole UPLB academe is praying and supporting her.
Anyway, after that we decided to have dinner. As hungry as we are, we decided to check out Kanin Club in Westgate, Alabang.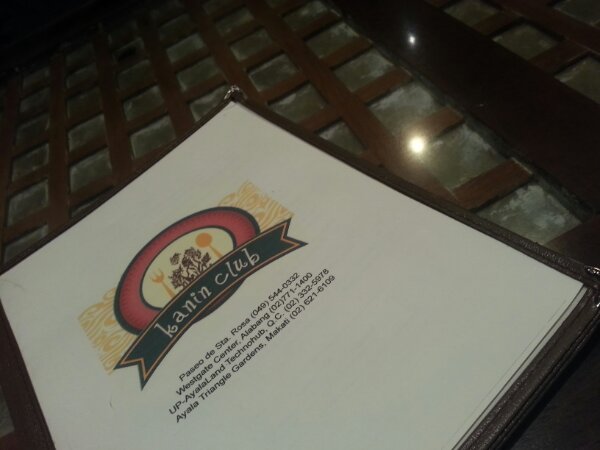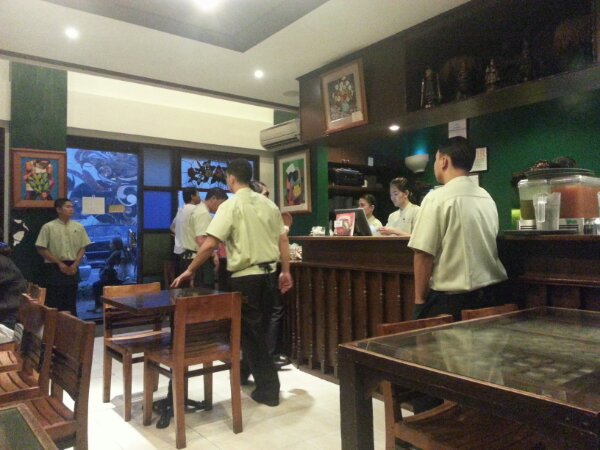 Kanin Club is known for their authentic Filipino flavor. By Filipino flavor, I mean greasy, salty and fatty. Haha! Don't get me wrong, I'm not saying their food is not good; it's just really how Filipinos like it, don't we? 🙂
Before I tell you what we had, I want to say first that we are a group of 5 people. Two of which are my brothers who are literally tall and big. Just saying… So on to the food: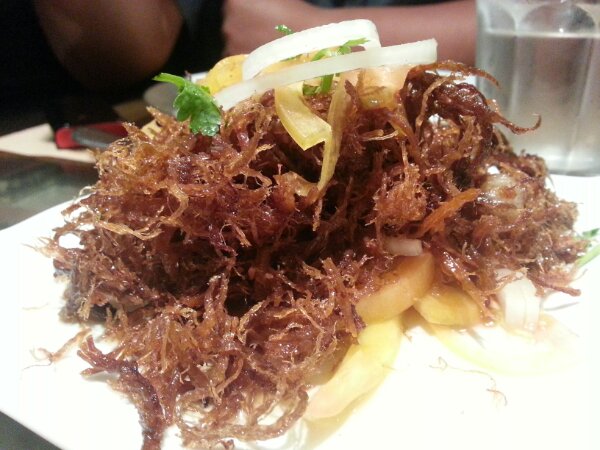 Kanin Club's Crispy Beef Salad
Description: appetizer of beef strips (almost similar to beef jerky) deep-fried to perfect crispness
Price:  ~Php 246
Serving: good for sharing
Nobody in our table expected the crispy beef salad to be as literal as the name. We thought there's some salad in their but NO—it is entirely beef strips deep fried to crispy perfection. If it's any consolation, there's some tomatoes and onions. Hehe… The dish reminds me of beef jerky, do you get it too?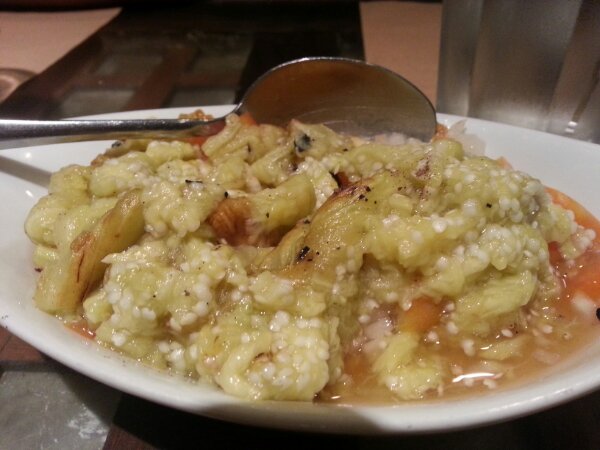 Kanin Club's Ensaladang Talong
Description: grilled eggplant with tomatos, onions and vinegar
Price:  ~Php 149
Serving: good for sharing
Ensalada is the local term for salad in the Philippines and talong is eggplant. Ensaladang talong is basically grilled eggplant (the burnt skin are taken out of course) with tomatoes, onions and seasoned with salt, pepper and vinegar. It's acidity and lightness is apt to balance all the rich flavor of the other dishes we ordered.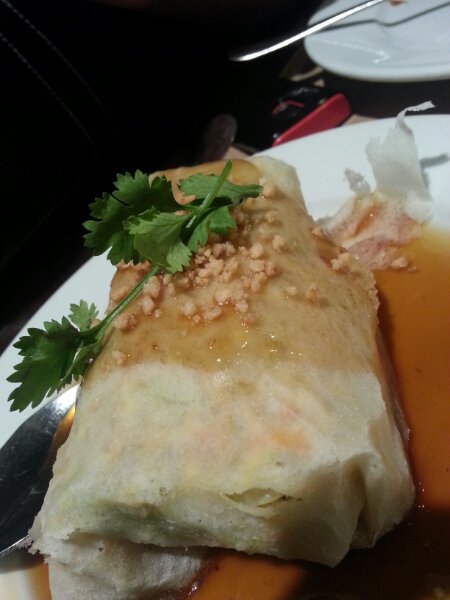 Kanin Club's Lumpiang Sariwa
Description: chicken strips, onions, tomatoes, cheese, avocado, lettuce, etc rolled into an egg wrap
Price:  Php 97
Serving: good for 1 but you can always share
Filipino's lumpiang sariwa is similar to that of Chinese's lumpia. Sariwa means fresh not fried because there's another version of this that's deep fried. The core of the dish are the vegetable ingredients such as sprouts, carrots, garlic, onions,  ground meat, cabbage, or what every vegetable fancies you. These are then rolled into an egg wrap and topped with peanut sauce. Usually, it is the sauce that makes or breaks the lumpia; it's the component that sets your lumpia apart from other lumpia. Hehehe
As per Kanin Club's Lumpiang Sariwa, it's not bad for a lumpia. The serving is big enough for 2-3 people. I recommend you order this if you're looking for some good greens in KC.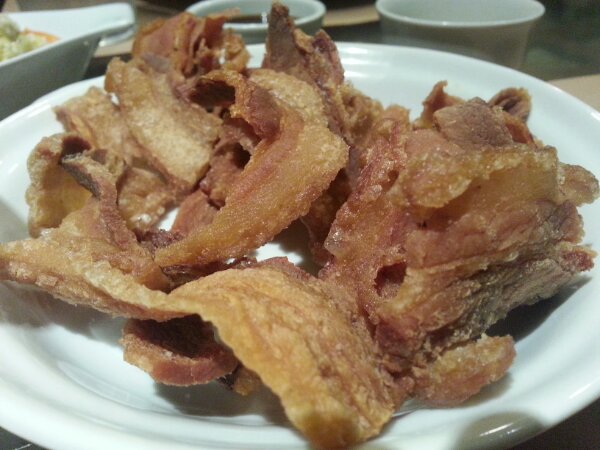 Kanin Club's Crispy Liempo
Description: chicken strips, onions, tomatoes, cheese, avocado, lettuce, etc. wrapped in soft taco shell
Price:  Php 142
Serving: good for 1 or better share those cholesterol
So here's the part that almost every Filipino has a weakness for—pork liempo. Filipinos usually have liempo for special occasions or sometimes for a much needed (drinking) session. Kanin Club's version used thinly sliced meat deep fried to crisp perfection. Every slice is crispy but not tough; they serve this with vinegar. Beer na lang ang kulang! hehe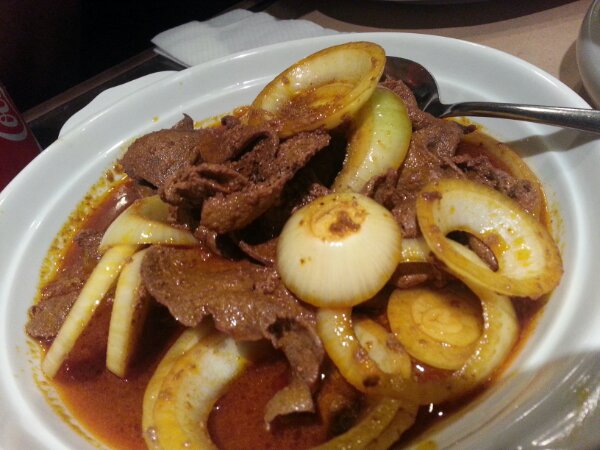 Kanin Club's Liver Steak
Description: pork liver sauteed in onions, garlic and soy sauce
Price:  ~Php 164
Serving: good for sharing
This is the healthier version of Pinoy's Bistek (I'm not sure if Bistek is actually the Filipino version of the American Beef steak. Please enlighten me). KC used pork liver instead of the usual beef. What we liked so much in this dish is the sauce, it's basically made of soy sauce with lots of calamansi, some pepper, and I don't know what else they put. But this is definitely a winner!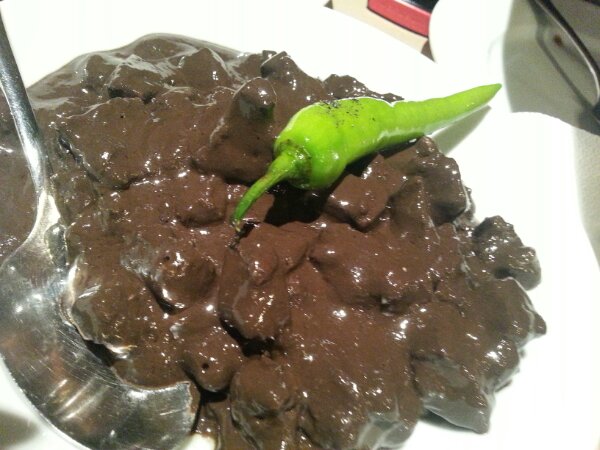 Kanin Club's Crispy Dinuguan
Description: chicharon and pork internal organs stewed in vinegar and pork blood
Price:  ~Php 261
Serving: good for sharing..please spare yourself from too much cholesterol and share this!
I think this is one of the most popular dishes in Kanin Club. Dinuguan is usually a stew of pork internal organs, some meat and blood. But for this version, they had all the internals deep-fried, much like chicharon. So it's actually a surprise to bite in because instead of the usual meat, you get crispy chicharon. The sauce is super rich and tasty. I highly recommend you try this when you eat in Kanin Club.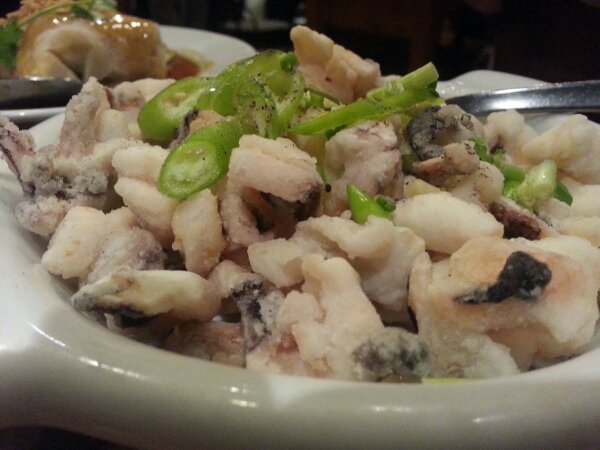 Kanin Club's Squid in Salt and Pepper
Description: crispy calamari seasoned with pepper and salt, served with sweet spicy sauce
Price:  ~Php 224
Serving: good for sharing
There's nothing really much special about this dish. It's basically a calamari seasoned  with salt and pepper— straightforward and simple. Of course, what calamari is it if it's not served with vinegar?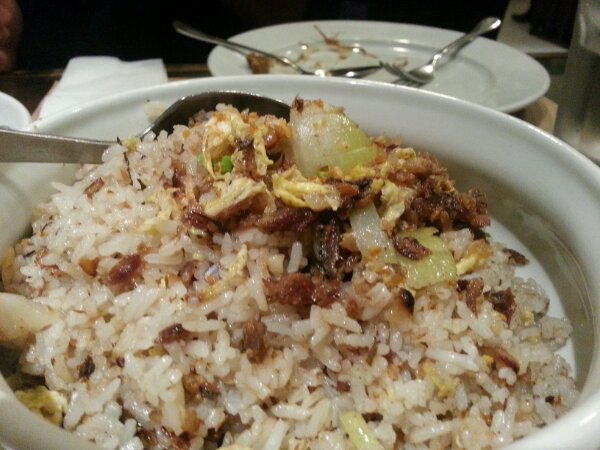 Kanin Club's Tinapa Rice
Description: fried rice with bits of smoked fish and fried egg
Price:  ~Php 149
Serving: good for sharing
OK, we have to applaud Kanin Club for this ingenious dish.  Tinapa rice is actually fried rice with eggs and bits of tinapa; tinapa is basically smoked fish. It's super nice and very easy to duplicate at home. You can tweak the recipe and put in less oil and more veggies so its somehow healthier. My sister said she'll be replicating this recipe at home, I just hope I'm there when she does. 🙁
Turon KC (Kanin Club)
Description: banana, purple yam jam, coconut strips, monggo beans wrapped in rice paper then deep fried
Price: ~ Php 100
Serving: good for 1 but you can always share
Finally to the dessert (I know we ordered so much..haha), turon KC is also another genius. Turon is a staple merienda (snack) by Filipinos. It's slices of banana with some sugar and sometimes langka (jackfruit) rolled in a lumpia wrapper then deep-fried (Yes, deep-fried again.. I told you how we, Filipinos, like it! Haha)
So Kanin Club's version is a little different from the traditional turon. Aside from the banana, they put in some sweetened coconut (macapuno), some ube halaya (purple yam), langka (jackfruit) and red monggo. It's actually like deep-fried halo-halo in lumpia wrapper. It can actually be a little to sweet for some so I recommend you share this or else, you might get overwhelmed by all the oil, salt, and sugar.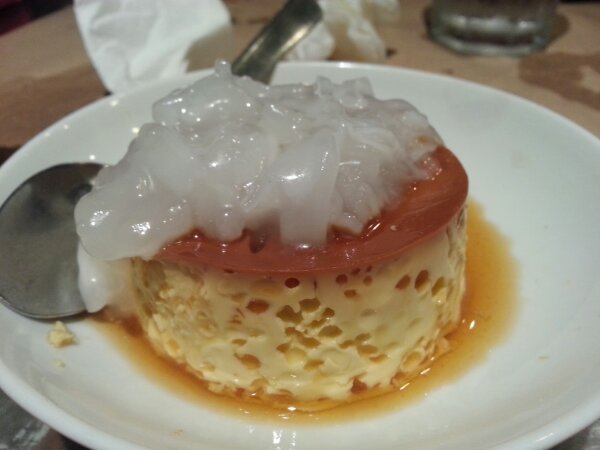 Kanin Club's Leche Flan
Description: custard topped with macapuno and caramel sauce
Price: ~ Php 100
Serving: good for 1 but you can always share
Leche Flan is another staple dessert for Filipinos. It's basically a custard with sugar syrup. Filipinos usually cook this treat for special occasions. I personally like leche flan. As per Kanin Club, they added an extra twist with the macapuno toppings.
This post is quite lengthy, but can ou blame us? Eating is one thing we, my siblings and I, love to do. It's usually a celebration when we get together. Hehe
Anyway, Kanin Club is really a place to go to enjoy some good food and company. It's ideal for that Sunday family meal or barkada get together. Just please eat in moderation as their food can overwhelming. Btw, based on my research, Kanin Club started out in Paseo Sta Rosa, Laguna. I'm not really sure but if it's true, I'm a proud Lagunena. Eatingness!
Branches:
Kanin Club Paseo de Sta. Rosa
Tel: (049) 544-0332
Operating Hours: Weekdays: 11am-2:30pm 5-10pm Weekends, Holidays: 11am-10pm
Kanin Club Westgate, Alabang
Tel: (02) 771-1400
Operating Hours: Weekdays: 11am-2:30pm 5:30-10:30pm Weekends, Holidays: 11am-10:30pm
Kanin Club UP-Technohub, Quezon City
 Tel: (02) 332-5978
Operating Hours: Daily: 11am-10pm
Kanin Club Ayala Triangle Garden, Makati
 Tel: (02) 621-6109