Hello again!
I'm sooo back! If you've seen our posts in Facebook and Twitter, you probably know that we just got back from the city of beautiful people, not to mention a beautiful city on its own, Cebu. So I do hope you watch out for our food trip posts. But for now, I'll give you some backlog posts. The photos below are vestiges of my lost BB. T_T
I digress, so on to the food! Today I'll feature J.Co Donuts and Coffee.
If you're a regular MRT rider, you've probably seen their ads in stations as well as billboards. That's how I got curious about this place.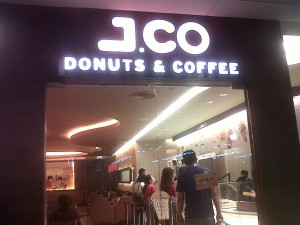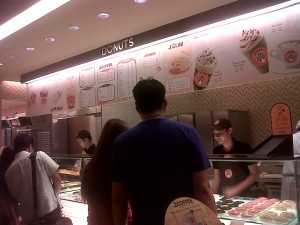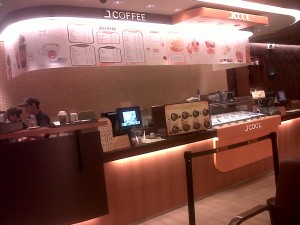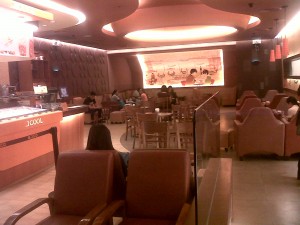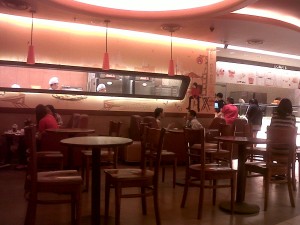 J.Co. has a minimalist look and feel; the ambiance is just spot on–relaxed and sophisticated at the same time. Plus, they have a semi-open kitchen where you can see them making their wonderful and delightful donuts. Semi because only have of the kitchen can be seen but no one's complaining here.
What's so amazing with J.Co Donuts are the flavors! Their flavors are crazy tempting and I cannot resist! How can I, if they have Avocado and Green Tea donuts?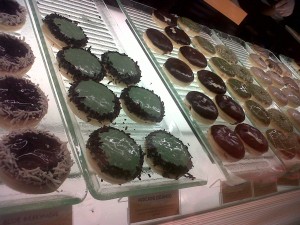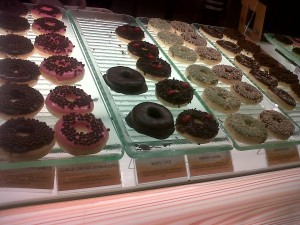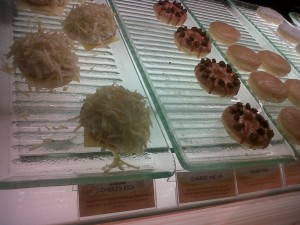 Of course, I had to try their Avocado donut–Avocado Di Caprio; playful name it is. Their donuts are so light and fluffy; melts-in-your-mouth-type, unlike the ones were used. Avocado Di Carpio has an avocado cream on top; which tastes heavenly. I like how the avocado flavor is subtle but distinct. I'm not really sure if it has white chocolate or something in the cream. Inside is a pleasant surprise of avocado-whipped cream. Delightfully, the donut doesn't have the throat-irritating sweetness; it was just right.
Avocado Di Caprio
Description: Avocado flavored donut
Price:  Php 45
Serving: good for 1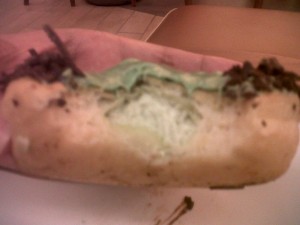 And can you believe it? they have Avocado Cappuccino??!!! And so I was lured…Unfortunately, I found out that Avocado, with its bitter aftertaste, and coffee, with its normal bitterness, are not good together; too bitter I may say. The cappuccino has my heart leaping out of my chest for hours. I was literally palpitating and I wasn't able to sleep well that night. Bad bad. I think their milk-based Avocado drink is better; since I suppose, it might taste like an avocado milk shake.
Avocado Cappuccino
Description: Avocado flavored donut
Price:  ~Php 125 (12 oz)
Serving: good for 1
As I mentioned, they also have Green tea donuts which are equally amazing! (Unfortunately, I don't have the pictures with me anymore.  🙁 )Their bestseller though is Alcapone which is white chocolate with almonds. It's nice and all but I like my avocado and green tea better. haha!
Overall, I highly recommend you try J.Co. Donuts. Their different spin on donuts is just amazing. I can't wait to go back and more!
Watch out for the Cebu post! Eatingness!
J.Co. Branches:
SM Mega Mall
SM Mall of Asia
Trinoma
Greenbelt 3