I'm baaaccckkkk! My apologies for the hiatus that has been. I could give you a narrative of how busy life has been but no excuse is acceptable. Hence, let's move on and get to business. But first, let me ask you how's your Lenten season goin'? Hope everyone got to enjoy the much needed break; but above that, reflect on the real meaning of this season and be enlightened.
Goin' back to our post, a lot lot of things already happened since my last stint in here. Christmas and New Year came, I started going to the gym (oh yeah! how about you,  beach-body na ba? Haha), I join Toastmasters Club, handful of things happened at work (which is the main reason for the hiatus…or not), and last but not the least,  I got a year older. My birth month is actually on January, so as you know, this is long overdue. What better way to break my hiatus than a birthday post, right?
The celebration was  simple, my siblings and I just got together and ate in Kenji Tei and Bannaple. Let me first tell you about the funny Bannaple experience. Since a friend introduced Bannaple to me, I was totally hooked.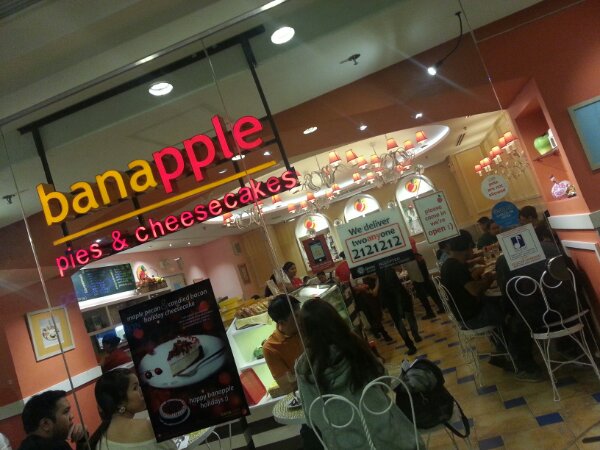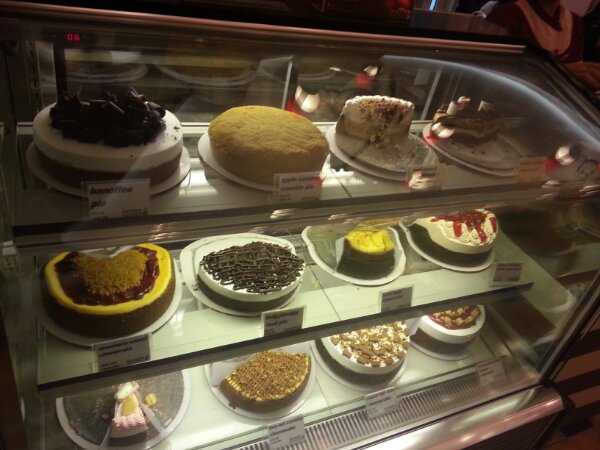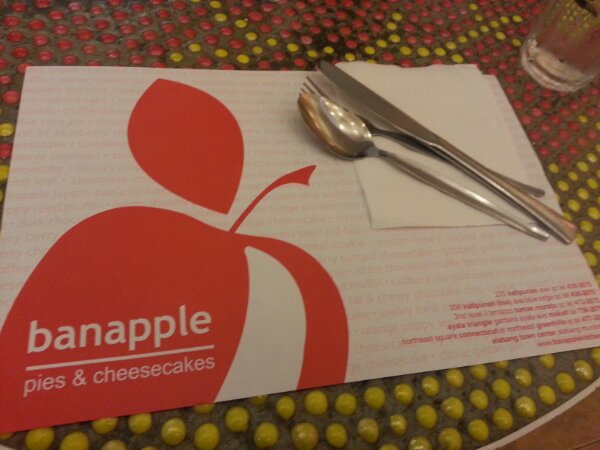 I wanted to share my new found obsession to my family so we headed to Bannaple in Alabang Town Center (ATC)  to get my birthday cake(s). When we got there, my brother and sister were overwhelmed with the selection an we wanted to try every single pie/cake available. And so we did! It's my birthday anyway, one can never have too many cakes, right?
Here's what we had…
Banoffee Pie
Description:  combination of crust, sweet banana, coffee, cream with chocolate toppings
Price:  Php 95 per slice            Php 720 whole cake
Serving: good for 1 (you can always share)
The classic banoffee pie is their signature cake. We love everything about this pie, the graham crust not too sweet but gives the crunch; the banana, of course, that balances the sweetness and kick of the toffee cream. What we don't get are the chocolate toppings, it could work even without thm but you can also eat them separately.
Praline Banana Cream Pie
Description:
Price:  Php 100 per slice            Php 760 whole cake
Serving: good for 1 to many
Praline Banana Cream Pie is just the "lighter" version of the banoffee pie; no chocolate toppings and less of the caffeine kick in the toffee.
Two-Nut Caramel Cheesecake
Description:
Price:  Php 105 per slice            Php 1000 whole cake
Serving: good for 1 to many
Bannaple offers a wide variety of cheesecakes (like crazy!). They have a thick cheesecake base; not too creamy. The nuts (walnut and pecan, I think) gives texture to the otherwise monotonous ensemble.
Yo ho Hope! Cheesecake
Description:
Price:  Php 120 per slice            Php 1160 whole cake
Serving: good for 1 to many
Until now, I haven't figures out the name of this cheesecake. Anyway,the cheesecake is actually topped on to a chocolate-mousse-like cheesecake. I'm having a hard time describing this! At first, it didn't work for us but as you get more bite of that chocolate-y goodness contrasted by the salty cheesecaake, we've appreciated the taste. This actually is my youngest  brother's favorite.
Hallow Mallow S'mores pie
Description: layers of chocolate fudge, graham whipped cream, roasted almonds and melted marshmallows
Price:  Php 110 per slice            Php 840  whole cake
Serving: good for 1 to many
This is the only s'mores pie in the menu. You can have this cold (frozen) or warm (so that the mallow-goodness melts). Honestly, there's a lot of things going on in this pie–nuts, melted mallows, crust, chocolate. And we were a bit confused with the taste. Not my favorite.
Maple Pecan Candied Bacon Cheesecake
Description: rich maple cheesecake topped with smooth creamy whipped cream, crunchy pecan pralines and candied bacon bits
Price:  ~Php 110 per slice           ~ Php 1000 whole cake
Serving: good for 1 to many
What caught our attention in this cake is the "candied bacon". Together with the maple pecan, it gave an interesting crunch to the cheesecake. They balanced the not-too-sweet cheesecake.
Cherry Chocolate Truffle Cheesecake
Price:   Php 110 per slice            Php 1050 whole cake
Serving: good for 1 to many
I thought this one would be an instant hit since I love berries and chocolates together and it was! For starters, the cherry jam didn't taste like synthetic medicine. The chocolate cheesecake was subtle which complements the cherry-flavored cream.
What we truly love about Bannaple is 1) the superb taste of their cakes 2) the extensive selection (you won't run out of something new to taste) 3) the big serving 4) their reasonable price. Now you know why we're hooked! We highly recommend you try them; just keep in mind that you were warned. Hehe 😉
This is how my siblings look after our crazy but satisfying Bannaple experience… Eatingnes!!! :))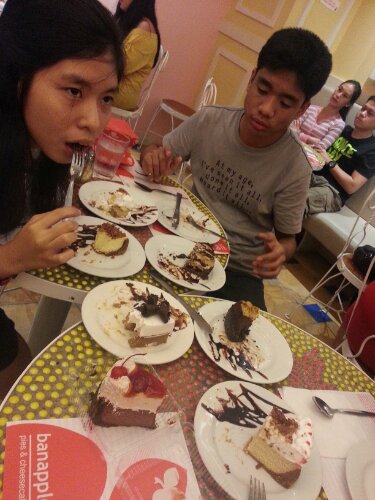 Aside from pies and cheesecakes, bannaple also offers full meals, muffins, breads, savory pies, etc. We personally like the Hickory steak and Chicken Parmigiana, probably I'll talk about that in a separate post. Below is Bannaple's menu and branches: