I'M BACCCKKKKK!!!
It has been 3 weeks since my last post. I haven't been so active blogging lately because I had to do A LOT of things at work. How I wish there's 36 hours in a day so I can still do other stuff (blog, read, dance, SWIM, run, etc.) and of course, energy to keep up with that extra 12 hours (what's the point of having extra hours in a day if you don't have energy to do stuff anymore, right?)
Oh, btw, I just started dance lessons this week. Dancing is one of the things I love next to swimming. But I had no time and courage to do it in my school years. I also  have to burn all the calories from my eating escapades, you know, to post here. haha! (sinisi pa daw ba ang blog sa katakawan?!)
So much for the kwento, let's talk about food..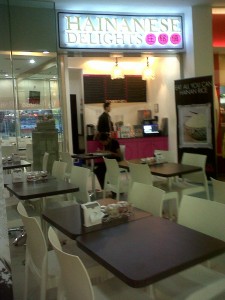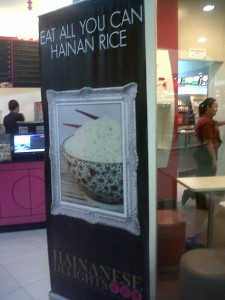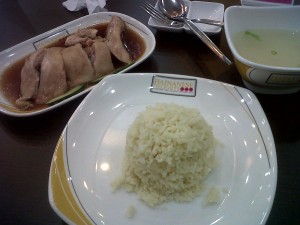 Hainanese Delights
Description: Hainanese Chicken Rice
Price:  PHP 120
Serving: good for 1
For those who aren't familiar with Hainanese chicken rice, here's something I researched from the web…
Hainanese chicken rice originated in China specifically in the island of Hainan. People from the Hainan region actually migrated later on to Singapore which accounts for the popularity of Hainanese chicken rice in Singapore. What's noteworthy about this dish is that the stock used to cook the chicken is actually used to cook flavored rice. This is called the Hainan rice. Btw, it's rice all you can at Hainanese Delights. Hainanese Chicken rice actually has a very subtle flavor. The taste is concentrated on the broth of the chicken. To secret to bring out the flavor of the dish is in creating your own concoction of sauce (soy sauce, chili and ginger). Personally, I like my sauce with lots of ginger and chili.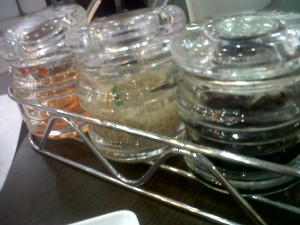 Hot Chick
Description: spicy chicken bbq (something like that)
Price:  PHP 120
Serving: good for 1
Aside from the Hainanese chicken rice, Hinanese Delights also serve other rice dishes, noodles and dumplings. I'm a sucker for spicy stuff so I tried Hot Chick and there's two words to describe it…HOT AND SPICY.
Overall verdict, Hainanese Delights is a must try if you'd like to have a taste of Singaporean chicken rice. And this won't cause much of a hole in your pocket since items in their menu ranges from Php 90- Php 180. Eatingness, right?! 🙂
For their full menu, you can click here.
Don't forget to like our Facebook page here: www.facebook.com/eatingness
Hainanese Delights Branches:
Robinsons Galleria
Ground Level, Robinsons Galleria,
EDSA cor. Ortigas Ave., Quezon City, Metro Manila, PH
Telephone: (63 2) 687-1802
Robinsons Place Pioneer
2nd Level, Robinsons Forum,
30 EDSA corner Pioneer St., Mandaluyong, Metro Manila, PH
Telephone: (63 2) 687-0786
Robinsons Place Manila
Ground Level, Pedro Gil Wing,
Robinsons Place Manila, Pedro Gil cor. Adriatico Sts.
Ermita, Manila, Metro Manila, PH
Telephone: (63 2) 525-5583
Robinsons Forum
SM Baguio
Robinsons Metro East
SM Masinag
SM Sta. Rosa
Robinsons Lipa
SM Baguio
SM City Fairview
Ground Level, Main Mall, SM City Fairview,
202 Quirino Highway cor.
Regalado Ave, Greater Lagro, Quezon City, Metro Manila, PH
Telephone: (63 2) 921-7928
SM Dasmarinas