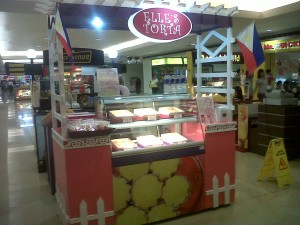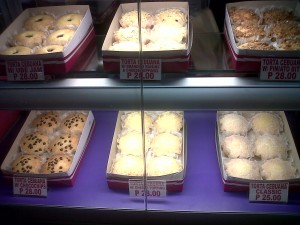 You may have seen this humble stall in LG/F of SM Megamall just beside Moshi Manju (click here for the post). Just like me, you may have reservations on trying this mamon-like (muffin-like) delicacy; but hesitate no more! Elle's Torta  Cebuana is definitely worth the try! Thanks to my colleague for recommending it– Thanks, Sir 🙂
I have learned that torta is a pastry delicacy from Cebu and Bohol provinces. It is originally made from eggyolks, fermented coconut juice (tuba), and lard.
Elle's Torta Cebuana
Description: muffin made from egg, sugar, milk and flour
Price:  Php 25 (classic)     Php 28 (w/ ube jam filling/ cheese filling/ choco chips/sugar glazed/ piniato bits )
Serving: good for 1
At first glance, torta shows so much resemblance to our usual mamon which is soft and light. But it takes only one bite to know the difference. Torta Cebuana is denser and heavier than the usual mamon.  It's not too sweet nor bland; just right. And it's definitely more filling; perfect for merienda (snack).
Elle's Torta has a twist to the classic version by introducing different fillings and toppings. They have an ube jam filled torta, cheese-topped torta, sugar glazed torta, torta with chocolate chips, and piniato-topped torta (just not sure what piniato is, do you know?)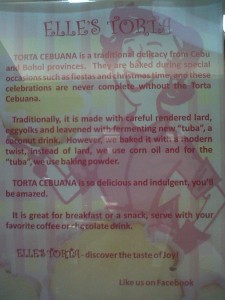 Here's their contact details: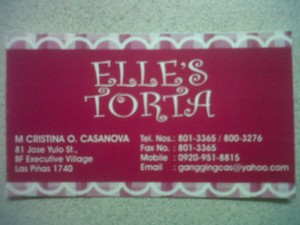 Here's a video tutorial for making Torta Cebuana. You can also share  on the comments your torta recipe. 🙂
[youtube id="cu9Tf4ChQaU" width="620″ height="360″]
Reference: http://www.squidoo.com/torta-de-cebu