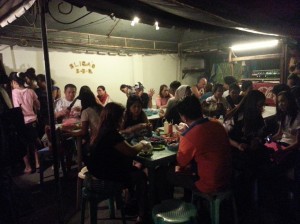 Hello! I think I've mentioned in my previous posts that I've recently been to the Queen City of the South—Cebu. I fondly call it the City of the Beautiful People because there's a lot of gorgeous and beautiful people in that place! seriously! I think it's because of the number of foreign nationals living/ visiting there. If you haven't noticed yet, Filipino blood mixed with other races produces superb genes. haha!
Again I digress, going back…on our second night, we tried a famous street food spot at the heart of Cebu City. The street or the area is called Larsian. Here, they grill lots and lots of street food like chicken skin, isaw (chicken intestines), BBQ, atay (chicken liver), chorizo de Cebu (Cebu's famous sausage) and more.
If you've noticed in the picture, the place is jam packed with people as it is popular among the local Cebuanos as well. Talk about immersion and native taste. We've waited for about 30 minutes before we got seated. That's how passionate and committed I am in this blog (sinisi naman ang blog sa katakawan..haha)
Ihaw-ihaw ranges from Php 5-20; not bad at all!
Cebuanos also have a local dish, well, I think it's more of a method of cooking rice. Puso is rice cooked in weaved coconut leaves. Takes a lot of effort, don't you think? They gave us 20 pieces of puso since one corresponds to half a serving (but we think it's more since the rice was compressed making it heavy). While waiting, we were guessing hypothesizing on how puso was cooked. Upon consultation with the locals, we found out that the weaved coconut leaves are prepared foremost, then, a certain measure of rice is placed inside. The "basket" with rice is then cooked in boiling water. They said, puso has more flavor, easier to eat, and spoils longer than the usual cooked rice; thanks to the powers of the coconut leaves. Puso costs Php 3 each—very affordable!
Since puso is so compact, it's perfect for our island hopping. We packed some of these with lechon baboy and manok (roasted pork and chicken).
At the port, I noticed this portable water dispenser. I just can't help but share. The idea is, you get a plastic bag on the top compartment of the "machine"; place some coins, and it dispenses water into the plastic. Creative, right? specially with that "apple logo". haha!
More Cebu posts coming up! Stay tuned! #Eatingness!
Location:
Larsian
Near Rotonda in Cebu City
At the back of Robinson's Cyber Gate, beside Chong Hua Hospital