I know I'm a little too late on the Jamba Juice craze; but better late than never, right?
With the general consumer population becoming more and more health conscious, businesses that offer healthy and delicious treats are a hit! No wonder the famous juice bar from California, Jamba Juice, was welcomed very well by Filipinos.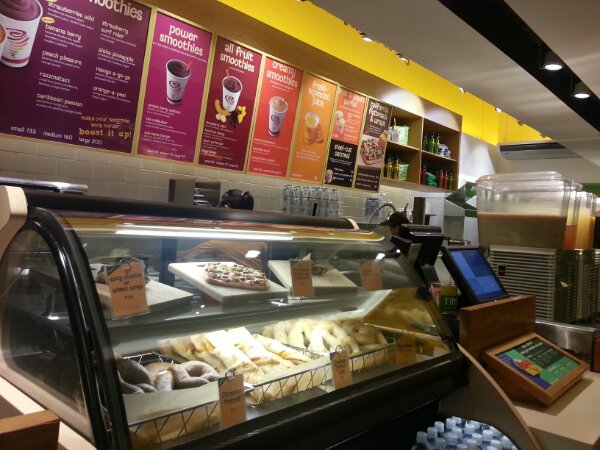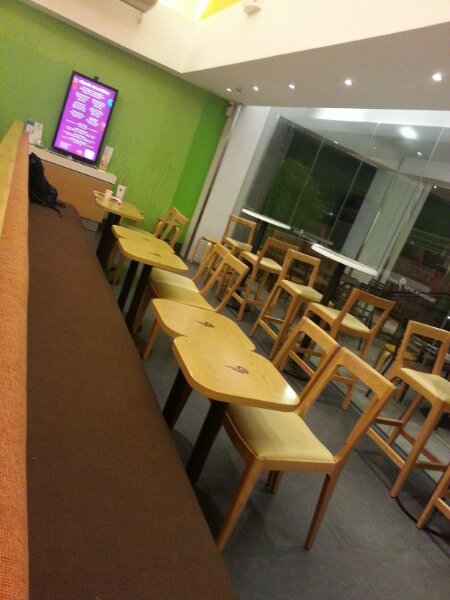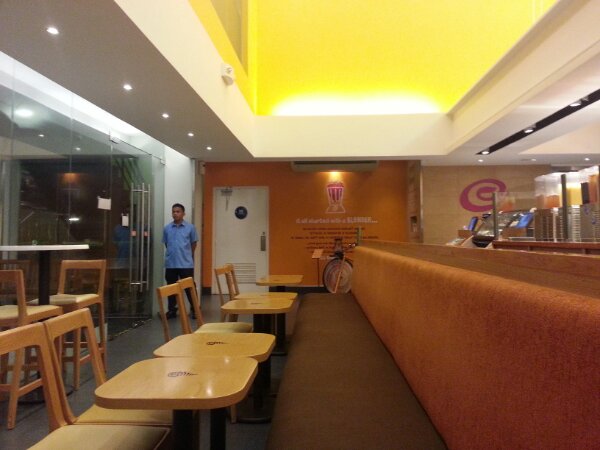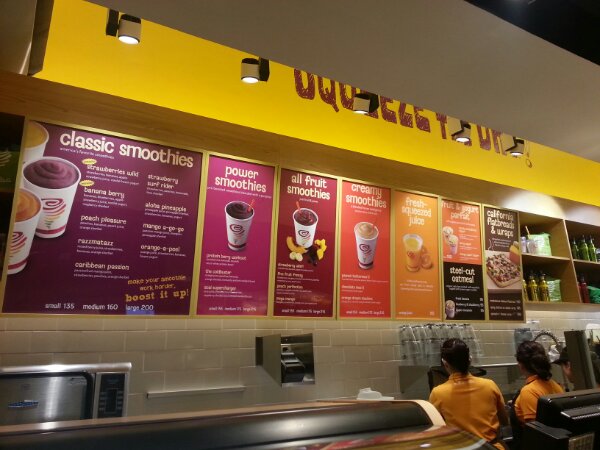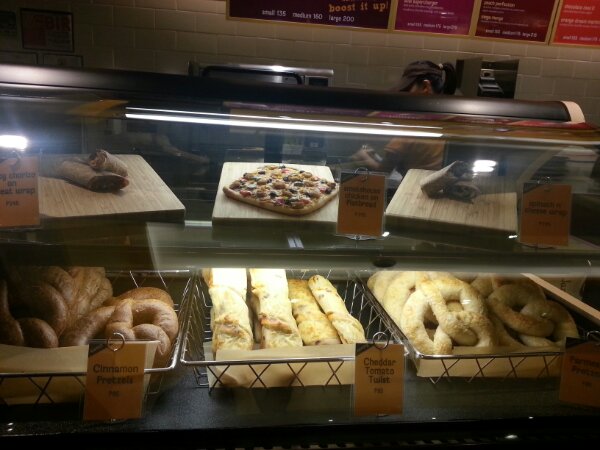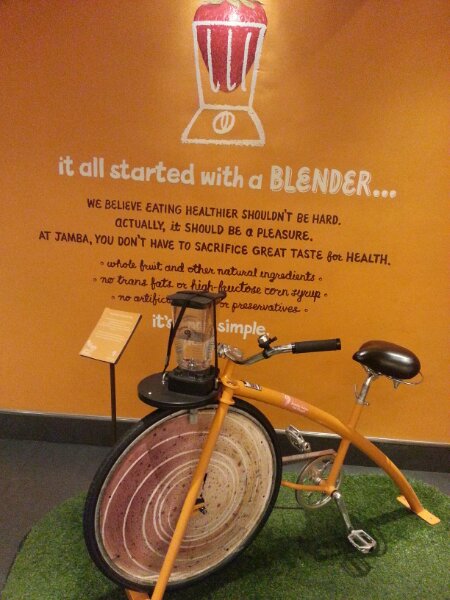 How about this cute bicycle blender? I also thought of this growing up, should have known it's a very good business concept…tsktsk…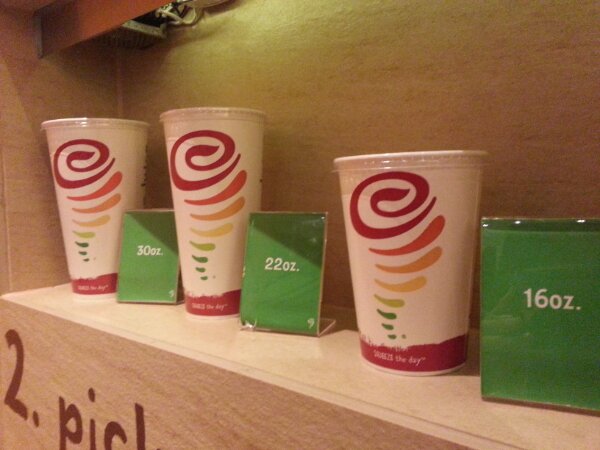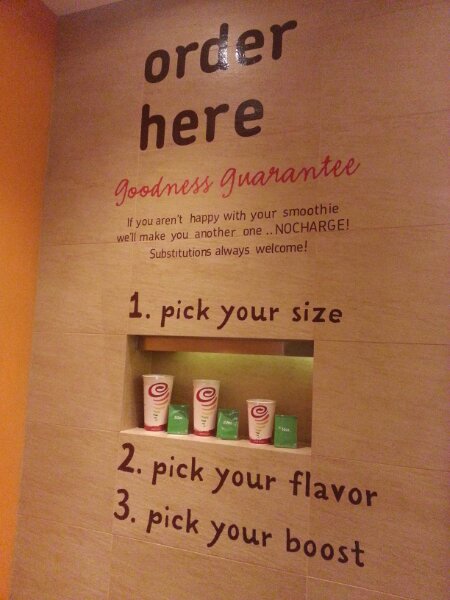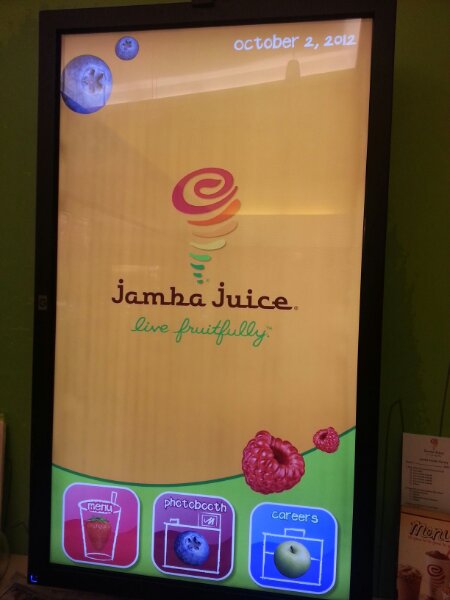 They have an interactive menu and photo booth in the store— spells fun!
I think you will agree with me when I say that Jamba Juice's image is lively, active and dynamic, fun and friendly. This, I think, is exactly what's needed to attract  the hip and young market who are starting to appreciate the more healthful snack alternatives.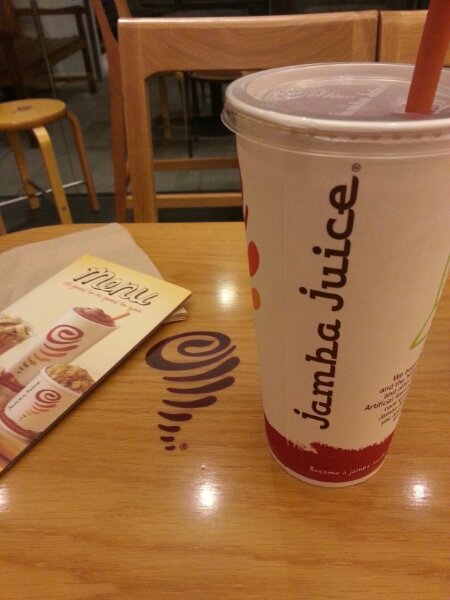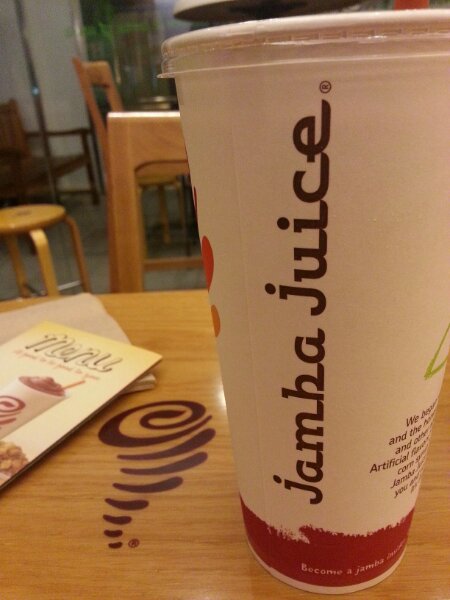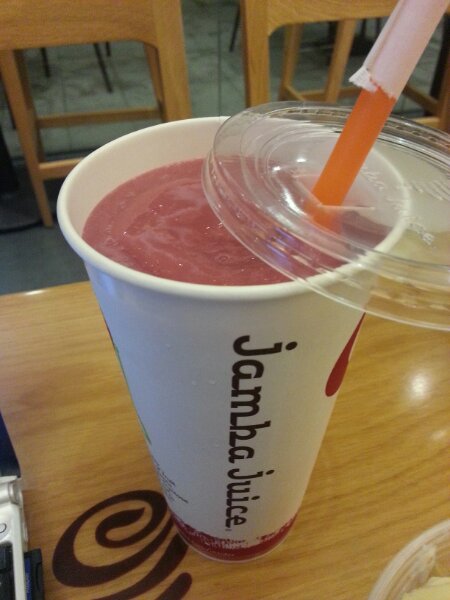 Jamba Juice's Razzmatazz
Description: mixed berry juice, strawberries, bananas, orange sherbet
Price:  ~Php 150  (16 oz)    ~Php 180 (22 oz)     ~Php 200 (30 oz)
Serving: good for 1
Based on what I've tried, Jamba Juice's base taste is more on the acidic spectrum, berry perhaps? Unlike your usual fruit/ milk shake, it's not overly sweet or creamy instead it is a little sour but nonetheless smooth.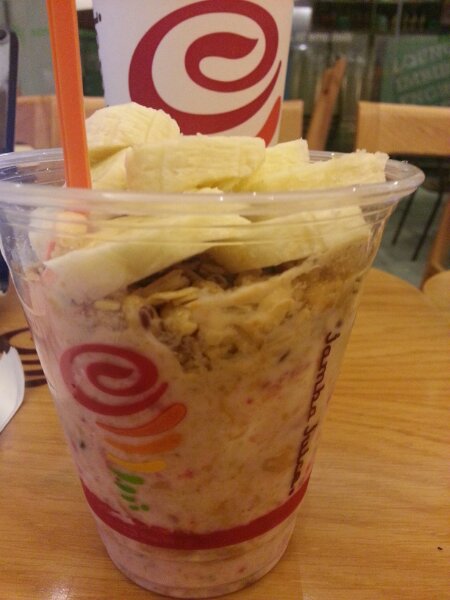 Jamba Juice's Chunky Strawberry Topper
Description: Strawberry Yogurt Parfait with strawberries, bananas, peanut butter, nonfat yogurt, soymilk and organic granola
Price:  ~Php 145
Serving: good for 1
I personally like this one. What not to like? it's a strawberry parfait with yogurt and peanut butter; everything I could dream of while being 'healthy' at the same time! I like the peanut butter touch; it gives the creamy, nutty flavor  blending very well with the bananas. The granola component is also a hit, gives our dose of fiber and texture in the dessert. Again, the parfait is more in the sour side and the parfait is really thick, but hey, no one's complaining! It's actually very refreshing! 🙂
Jamba Juice's Cheese Tomato Twist
Description:
Price:  ~Php 60
Serving: good for 1
The cheese tomato twist is something like a baked bread stick with tomato base sauce inside, twisted, and topped with some melted cheese. I like that it's served warm and how fitting it is for a light snack (I'm just not so sure in terms of calories..haha!).
I think this is interesting to recreate at home. Eatingness! 🙂
Branches:
Fort Bonifacio
7th Avenue cor. 29th Street South, Bonifacio High Street Central (across R.O.X.) Fort Bonifacio, Taguig City
Alabang Town Center
Theatre Dr. corner Commerce Ave., The Street, Alabang Town Center, Ayala Alabang, Muntinlupa City, 1780
Reach them online at http://jambajuice.ph